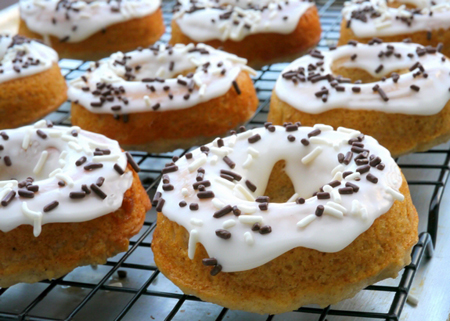 Recipe from: Created by Cathy Pollak for NoblePig.com | Serves: 12 doughnuts
Ingredients:
Doughnuts:
1-3/4 cups

all-purpose flour

1 teaspoon

baking powder

1 teaspoon

apple pie spice

1/2 teaspoon

table salt

1/4 teaspoon

baking soda

1 cup

vanilla Greek yogurt
3/4 cup

granulated sugar

1/2 cup

vegetable oil

1/4 cup

golden brown sugar

1 large

egg

1 teaspoon

vanilla bean paste or vanilla extract
Sour Cream Icing:
3/4 cup

confectioners' sugar

2 Tablespoons

sour cream
1/4 teaspoon

fresh lemon juice

sprinkles
Directions
Preheat oven to 350 degrees F. Lightly spray doughnut pans with cooking spray.
In a large bowl, combine flour, baking powder, apple pie spice and table salt. Set aside.
In another bowl, combine yogurt, granulated sugar, oil, brown sugar, egg and vanilla. Add this to the dry ingredients and mix just until combined (do not overmix).
Spoon 1/4 cup batter into each doughnut compartment of the prepared pans. Bake for 13-15 minutes or until doughnuts spring back to the touch. Place on a wire rack and let cool for 15 minutes before removing from pans.
When doughnuts are cool, whisk together confectioners' sugar, sour cream and lemon juice. Stir until it comes together...it will. Drizzle over doughnuts or use an offset spatula to apply the icing. Add sprinkles.
- Recipe courtesy of noblepig.com.