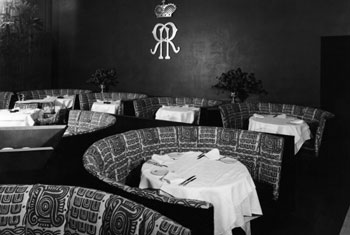 My mother was born and raised in Houston, which is the most "Southern" of Texas cities. Even her accent had the added rich drawl of her boarding school in Atlanta. That is why, when I think of my mother, I feel Southern. We had southern cooks and when we were not eating at the local Mexican café in Toluca Lake (California – not Mexico) memory dictates that we dined on chicken fried whatever! Chicken, of course, but also pork chops, steaks, fish, and shrimp – virtually everything (except our greens) would be chicken-fried.
To compliment our chicken-fried whatevers, mother would prepare a variety of whipped jello desserts with mini marshmallows, including Banana Cream Pie and the ever-popular Prune Whip.
It is a blessing that my father insisted on taking us to the "finer" restaurants in Los Angeles and Beverly Hills, like the Brown Derby Perino's or Mike Romanoff's, otherwise I guess I would be chicken-frying whatever to this day!
I don't have her recipes – I don't even remember a cookbook in the house - but the memory still brings a certain taste to my heart.
Chicken Fried Steak
INGREDIENTS:
Top round steaks (Rib Eyes are popular these days, but why would one want to pound a Rib Eye into submission?)
Flour
Eggs
Milk
Salt and pepper to taste
Beau Monde seasoning to taste
DIRECTIONS:
Tenderize the meat until flattened and nearly double in size. Season the flour and dust the steaks. Dip the steaks into the egg and milk mixture and then dust again.
Hopefully you will have the perfect cast iron skillet to fry the steaks in a lot of hot oil (as you would for fried chicken), turning after about 3 minutes. Continue cooking for about 5 more minutes.
Remove and drain on paper toweling.
Make your creamy gravy from the pan drippings being sure to add extra pepper. Serve with spinach and mustard greens.
Hope you made biscuits!
Nancy Ellison, award winning photojournalist and celebrity portraitist, has authored fourteen books of photographs, including "Romeo and Juliet: The Love Story in Dance" and "Starlet". Her latest book is "Wagner's Eternal Ring".