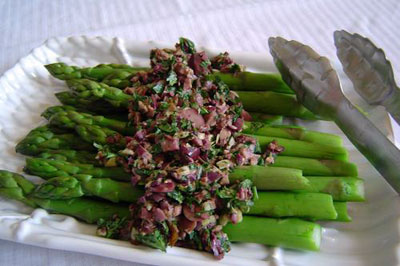 A spring brunch just wouldn't be complete without asparagus. Along with our grilled strawberry-brie sandwiches and brown sugar and pepper glazed bacon, we enjoyed a side of blanched asparagus spears with a garnish of gremolata at our Bass Lake Brunch.
Served at room temperature, the blanched asparagus was cooked just enough to retain some crunch. Plunging the cooked asparagus into a bowl of ice water gives it a shock that stops the cooking and helps retain the bright green color.
Traditionally, gremolata is a mixture of chopped parsley, lemon zest and garlic, sometimes held together with a bit of olive oil. In Mediterranean cooking, it is often served with veal or lamb. My Bass Lake cooking friend mixed it up with some chopped olives. It would also be wonderful as a garnish for asparagus with chopped, toasted hazelnuts or toasted pine nuts added to the base of lemon, parsley and garlic. Leftover gremolata can be tossed into pasta, spooned over a bowl of soup, whisked into an omelet or stirred into rice.
Our hostess, who always has the perfect serving plate for any kind of food, had an asparagus plate and even asparagus tongs for serving.
If you want to avoid the restaurant crowds on Mother's Day, this menu would be the perfect brunch to prepare at home. Asparagus can be blanched the day before and refrigerated and the gremolata can be mixed up a day or two before serving.
On brunch day, have the bacon cooking in the oven while the strawberry-brie sandwiches are being prepared. Arrange the asparagus on a serving platter and top with gremolata.
This is an adapted version of the recipe we enjoyed at Bass Lake.
Asparagus Garnished with Gremolata
2 pounds of fresh asparagus
2 tablespoons kosher salt
1 tablespoon grated lemon zest
3 tablespoons chopped
Italian (flat-leaf) parsley
2 tablespoons minced garlic
1/2 cup pitted kalamata, nicoise or picholine olives, finely chopped
Freshly ground black pepper to taste
Bring about 4 quarts water to a boil in a 6-quart pot. In the meantime, prepare an ice water bath in a large mixing bowl and stir in about 1 tablespoon kosher salt; set aside.
When water boils, add about 1 tablespoon kosher salt. One handful at a time, blanch asparagus in rapidly boiling water for 1 minute or until just tender to the bite. Use a Chinese strainer, tongs, or slotted spoon to immediately transfer blanched asparagus to reserved ice water bath. Leave asparagus in ice water just until they are cool to the touch, then drain and transfer to paper towels. Pat lightly with more paper towels to remove any excess moisture.
Make gremolata by mixing lemon zest, parlsey, garlic and olives in a small bowl. Arrange asparagus on serving platter and garnish with gremolata. Sprinkle with freshly ground black pepper.
Sue Doeden is a popular cooking instructor, food writer and integrative nutrition health coach. She is the host of Good Food, Good Life 365 on Lakeland Public Television. Her own hives full of hardworking bees and her love of honey led to the creation of her recently published cookbook, Homemade with Honey.