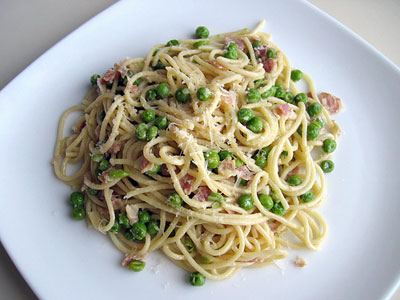 12 ounces spaghetti
1 tablespoon olive oil
4 ounces pancetta, thinly sliced
1 garlic clove, finely chopped
1 shallot, finely chopped
1 10-ounce package frozen peas
1/4 cup sour cream
freshly ground black pepper
1/4 cup grated Parmesan cheese, plus more
Cook spaghetti according to package directions in liberally salted water. Reserve 1/2 cup pasta water.
Heat oil in a large heavy-bottomed pan over medium-high heat. Cut pancetta into small pieces and add to pan. Cook until fat has rendered, about 5 minutes.
Add shallot and garlic, and cook for a few minutes further. Add peas and cook until tender but still bright green, about 5 minutes.
Add cooked pasta and the reserved pasta water. Stir in sour cream and cheese; toss until melted and sauce has formed. Serve with additional grated Parmesan. Yield: 4 servings.
- Recipe courtesy of Joseph Erdos