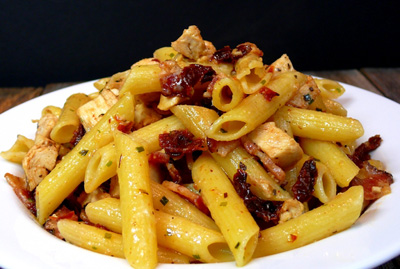 While I love a good pasta sauce, sometimes I just don't want it. Making pasta this way allows for some real yummy goodness and a real rustic feel, sans the sauce. Let's face it, with bacon, chicken and sun-dried tomato, who needs the sauce.
Recipe Created by Noble Pig | Serves: Serves 4-6
Ingredients:
1 pound penne pasta
1 pound cooked skinless, boneless chicken breast, cubed
7 slices thick cut bacon, diced
1 jar (8-10 oz) julienned sun-dried tomatoes, packed in oil
2 Tablespoons butter
1 Tablespoon chives, freeze-dried or fresh
1/2 cup aged white cheddar or Parmesan, finely grated
Directions:
Boil pasta according to package directions. In a large skillet, brown bacon over medium heat until it begins to crisp. Add in cubed chicken, sun-dried with half the oil that's in the jar, butter and chives. Continue to saute until bacon is crisp and chicken is warmed through. Add pasta into skillet and toss with cheese until all ingredients are incorporated. Taste and season with salt and pepper if necessary. This usually depends if your chicken was seasoned originally or not. Serve immediately.
~ Another amazing addition to this dish is marinated artichoke hearts. I always add them in if I have them in the house.
- Recipe courtesy of noblepig.com.