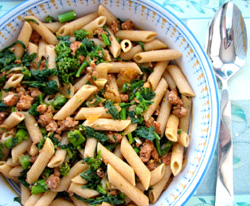 8 ounces penne (I use the "O" organic whole wheat penne from Safeway)
8 ounces, rapini or about one small bunch
8 ounces Italian sausages, about 2 links
1/2 onion, diced
1 clove garlic, chopped
pinch of red chili flakes (optional)
1/4 cup grated parmesan or peccorino cheese

In a large pot, boil water with a large pinch of salt for the pasta and to blanch the rapini.

Heat a large skillet over medium heath and into it, crumble the Italian sausage and add the onion. Cook over medium heat and after 5 minutes add the garlic. Cook until onion is translucent and sausage is cooked through. If sausage sticks to the pan, add a splash of water and scrape it upwith a wooden spoon.

Cook the rapini in the boiling water for just a minute then take out with tongs or a strainer. Bring the water up to a boil again and add the penne. Chop the rapini roughly and add it to the sausage mixture along with the chili flakes.

Combine the cooked penne and sausage mixture and add half the parmesan cheese, tossing to combine. Taste for seasonings and serve with the rest of the cheese.
Serves 2-3
-Recipe courtesy of Amy Sherman