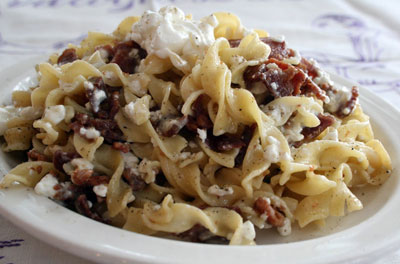 2 pounds sliced bacon
1 (16-ounce) bag medium egg noodles
1 (22-ounce) container small curd cottage cheese, room temperature (maybe a little bit more, if you like)
Freshly ground black pepper
Sour cream, room temperature, for serving
Slice bacon crosswise into about 1/2-inch wide strips. Fry the sliced bacon pieces in a large skillet over medium heat. When the bacon is very crisp, use a slotted spoon to transfer the bacon from the pan to a paper towel-lined plate. Pour all but 1 or 2 tablespoons of the bacon fat from the pan.
Boil egg noodles until done, following directions on package.
Drain noodles and put into the skillet with bacon fat. Stir to coat noodles. Add bacon pieces and cottage cheese. Stir to mix. Turn heat to medium and stir just until heated through. Sprinkle generously with freshly ground black pepper. Serve immediately. Have sour cream on the table. Each person can put a dollop of sour cream on their serving of turos teszta. Serves 6 as a main dish, more if served as a side dish.
Tips from the cook
Be sure to use full-fat cottage cheese. Reduced-fat and no-fat cottage cheese will make the dish a watery mess. Use full-fat sour cream, too. It's the only way I will guarantee the success of this dish:)
- Recipe courtesy of Sue Doeden