Ingredients:
Spaghetti – just enough for me – 120 grams – about a quarter-pound
Olio – just a touch
Bacon – guanciale, of course from Norcia or, best of all, from my friend and butcher, Ugo; as much as you want
Eggs – for me, only one egg yolk – fresh from a local chicken
Cheese – pecorino stagionato – that means the seasoned pecorino – hard for grating. It's salty and powerful and many good cooks believe it's the crucial ingredient in a carbonara – una mancia – a nice handful
Onion – This is blasphemy. Most people don't put any onion in carbonara. I like it. And, going against every Italian recipe book, instead of slicing it thinly, I leave it in nice sized chunks. It's the way I like it.
Pepper – fresh-ground black pepper – used liberally
In the pan: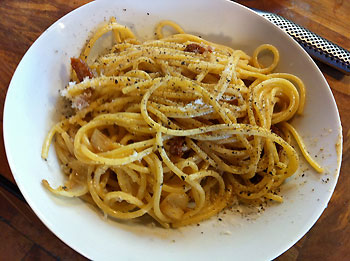 1. Put a large pot of water on a high flame. The dish can be made while it's coming to boil.
2. Slice the guanciale into bite-sized pieces; chunk the onion; grate the cheese;
3. Separate the yolk, mix it in a bowl with the cheese and a little pasta water; stir with a fork; grate a lot of pepper into it;
And in the bowl:
4. In a sauté pan, heat a tbsp. of olive oil and throw in the guanciale; when it crisps up, add the onion; saute until the onion gives it up – maybe two minutes; add a half-ladle of water from the pasta pot to the sauté pan;
5. When the pasta's done, drain it and add it to the pan, leaving it a bit wet; toss for a while with a wooden spoon; add the egg, cheese and pepper mixture and continue to toss;
6. When it all creams up, grate more pepper than you think is right over the top. It's right.
- Recipe courtesy of Michael Tucker