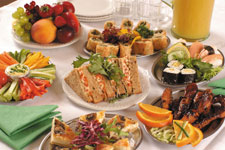 I considered myself a food lover: a zealous, open-minded, and studious consumer of food. My tastes ran the gamut from Chex Mix to Chez Panisse, and I felt this to be charmingly, almost wittily, indiscriminate of me. I read cookbooks, restaurant reviews, and food writing. I cooked. I baked. I ate out. I would have, without hesitation, claimed to be well versed, at the top of my game even, in the Art of Eating.
I was, needless to say, a recent college graduate and an unfounded know-it-all. I look back on those days with an indulgent fondness for my younger self, and her survey-class approach to eating. There she is, I think in my memory, burning garlic and liking it. I smile, knowing that soon enough she will be introduced to someone so enamored of food that in his presence one begins to question their own passion for almost anything else. To my student's eye, meeting Ryan was like being introduced to Edward Said after a steady diet of Cliffs Notes: there is, after all, much more to be found in the details.

Funnily enough I have no recollection of the first thing Ryan and I ate together. I have a feeling it must have been good. I suspect this not only because he knows of so many delicious places and things to eat, and was eager, perhaps to the point of mania, to show them to me. I believe what we ate must have been delicious because the expression he gets on his face when something is good must have totally obliterated my memory of the meal itself. Only recently I watched him taste for the seasonings in a pot of crème of parsnip soup, and judging by his reaction, wondered whether the milk had gone off.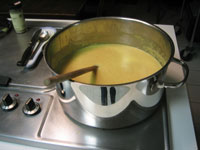 "What's the matter," I said, "Is it bad?"
He breathed lustily through flared nostrils, the ladle poised at his lower lip. I was across the room, and yet it took him a moment to respond, as if he had just heard me.
"No," Ryan said. His eyes were so serious that I shuddered a little.
"It's good."
The earnestness of such pronouncements used to embarrass me. Now I know better. I have come to accept the life of a Foodie.
Having passed the test and been dubbed "A good eater" about a month into dating, I was invited on a late summer holiday to the Chateau Versailles in Montreal. (The meal that proved me worthy was a particularly good basket of French fries from River God's pub, which I devoured with an apparently impressive, "search for the next crispy one before you've even swallowed the one in your mouth" approach). Ryan packed snacks, namely a box of his friend's famous heirloom tomatoes, grown at a community garden he often drove by "just to check". After coffee and croissants the next morning at breakfast, he asked the hotel waiter if we might borrow a saltshaker for the room.
"Ah," the waiter said, wagging his eyebrows at us two young things. "For margaritas!"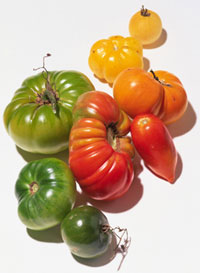 "Actually no," said Ryan, and he held up his hands to form an orb the size of a soccer ball. "We've got these tomatoes"…
The waiter smiled quizzically, and I thought I might explain, until I realized that I couldn't. This is a man, I wanted to tell him, who serenades me with freestyle rap songs about the contents of his fridge, songs that go:
"Unsalted butter, baby.
Strictly butter, girl.
And peanut butter. . .
Break it down!"
This would have been what some people call "too much information", and so I bit my tongue. I palmed our saltshaker as if it were a bag of drugs; the waiter pretended not to notice. I was in over my head, and a little skeptical . . . until that afternoon. Ryan was right about those sweet, dense tomatoes.

And so gradually my mind began to open. In my younger, naive burnt garlic days, I thought lunch was for eating lunch and dinner was for eating dinner. Not so in the life of a foodie. With Ryan for company I soon learned that lunch was for debating what to have for dinner ("Can you grill a coconut?"), that dinner was for discussing the merits of the day's lunch ("crunchiest pickle ever"), or perhaps the menu for tomorrow's breakfast ("pancetta is bacon"). A foodie might also just bring up a watermelon he walked by today that looked good, prompting the questions "Why don't we ever get watermelon? Don't you just love cracking open a watermelon?"
Sometime recently I tried to calculate the percentage of Ryan's conversations that revolve around food. Discounting orders at restaurants (no matter how lengthy) and nonverbal utterances of culinary rapt (no matter how lengthy), I came up with a rough estimate of 85 percent. I consulted his two closest friends for their impressions:
"Well, sure, and that might be low balling it," said his old roommate, the man whom Ryan lived with before moving in with me.
"And", he added, "That's only 'cause the guy's gotta chew."
And Ryan's long time best friend, who, not incidentally, married a woman known to make her own cheese, had this revealing comment: "Who cares?" he said. "What I want to know is how many dumplings he really ate last Chinese New Year."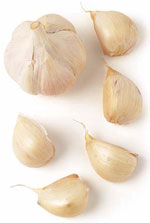 While at social functions Ryan can inevitably ride a wave of canapés to gregariousness, the tone in his own kitchen is quite grave. A, meditative, self-contained world with separate bowls for chopped herbs and a near compulsive sense of organization, his kitchen scares the hell out of me. Previously, when a recipe had asked me to chop, I did it: I took a knife and I cut whatever called for into pieces. Now that we live together (and he refers to me, in all seriousness, as his sous chef) I watch and learn. Garlic, which had previously taken on the size of grape nuts in my kitchen, now undergoes a transformation from clove to paste, under Ryan's chef's knife I might add, with more speed than I can peel an orange. It also lies in the pan quietly proclaiming its smell around the apartment for hours, over a tiny matchstick flame, while he occasionally passes by to smile at it. Before Ryan, I saw garlic as a mere ingredient, a flavor. I didn't know that garlic made tomato taste somehow more like itself, that certain ingredients elevate foods beyond the sum of their parts.
Am I better off living the life of a foodie? I'm certainly better fed. Ryan's passion for food, varied and devoted as it is, has also been humbling to witness: a lesson in the art of pursuing what you live for. At High Rise Bakery in Cambridge last year I watched him sigh and smile and shake his head, all while chewing a mouthful of simple buttered sourdough. I asked him if he liked it. He nodded, in that solemn, reverent way. After clearing his throat I anticipated a compliment of the highest, possibly spiritual, order.
"This bread…" he said, swallowing another mouthful, "it's just so… bready."
I know what he means. And yet it made me realize that I still have so much to learn. Never in a million years would I have come up with this description: that nothing, no comparison or metaphor, can ever really taste as good as the thing itself.
Ryan's Linguine Aglio e Olio

Garlic
Olive oil
Crushed red pepper
Linguine
Parmesan
Salt and pepper

Pour a generous amount of olive oil in a pan. Heat over low flame. Make a good pile of garlic ("more than looks 'decent' and you're on the right track"). Using a sharp knife crush it, mince it, paste it. Add to the pan along with a bit of crushed red pepper. Turn the flame down as low as possible, and sweat it ("Do not fry or burn the garlic!"). Add a pinch of salt. The garlic will become a sweet pungent mush, and when you can't resist the smell any longer, hold off a few minutes more, and then cook about 1 lb of linguine. Combine all, with a bit more olive oil and salt and pepper to taste. Serve with grated Parmesan to 4 regular people, or 2 glutinous foodies.


Ryan's Cream of Parsnip Soup
Adapted from Jessica Prentice's Full Moon Feast

2 tablespoons "unsalted butter baby"
3 leeks peeled, rinsed well, and sliced
4 parsnips, chopped chunky
4 or more cups chicken stock
1 bay leaf
1 cup Greek yogurt (Fage is good)
Salt and pepper

Melt butter and add leeks. Saute until they smell sweet. Add parsnips and sauté for another few slow minutes. Add stock, a bit of salt and the bay leaf. Simmer, with the lid on, until parsnips can be pierced easily with a knife. Remove bay leaf and puree. Fold in the yogurt and season again with salt and pepper. If serving to foodies, place a dollop more yogurt on top, for fanciness.
Agatha French is a Boston based writer about to make a cross country move. After 12 years away from her home turf of Southern California, she will be returning to Los Angeles in the fall. She, and Ryan, are very much looking forward to the year round fruit.