Eloise Lilly West Maddox Malle, born on Monday, August 18, 2008 at 430 in the afternoon. Eloise weighed in at a robust 8 lbs and stands a proud 20 inches tall. Ten days late, but she still has three 8s.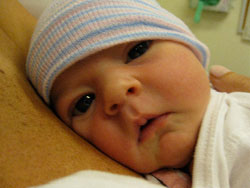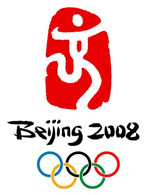 I'm due to have my first baby today, which is conveniently 08-08-08.  
Unlike the number '4', which is apparently somewhat doomed, the number '8' is as lucky as you can get in numerology obsessed China.   (After all, 8 on its side is the symbol for infinity, which must be a good thing).   I've since learned that China did not bid on the 2004 Olympics, or the 2012 Olympics - just 2008 - and that they plan to launch their Olympics Games at 8:08 on 08-08-08.   
I've also learned that a lot of Chinese people are taking this day very seriously.   From Beijing to Seattle, there's been a rush to get married on this auspicious date, as reported in yesterday's New York Times.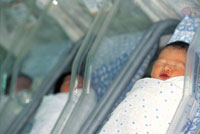 Better yet, I've learned that crews of fertility specialists were recruited across the land last fall with the hope that young Chinese parents could get knocked up in time to have an Olympic baby.  Even if I wanted to have a baby in China today, I couldn't: in a country where over 60% of births are delivered by C-section, the hospitals have been booked for months.  Closer to home, my pediatrician friend Wendy confirms that Cedars Sinai has an unnatural number of inducements booked in for today.
So what to do?  It feels like I'd be cheating to sign up for a shot of petosin just so that my baby-to-be will be lucky in Asia. Instead, my hubby and I have taken matters into our own hands.   We spent all of yesterday amidst 'Operation Ocho'.  I ate two full pineapples, I climbed hundreds of stairs, and we had lunch out in Studio City, where the Caioti Cafe has its secret pregnancy salad.  Kerry, the owner, kindly gave us a bottle of salad dressing to take home, which I will continue to sample throughout today.  We also invited a group of friends (8 in total) to see Eddie Izzard at the Kodak Theatre, with the hopes that I would laugh the baby out.  So far, no dice.
also published on the Huffington Post