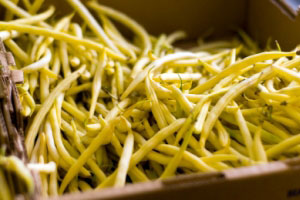 My food store in Maine is overflowing with locally raised vegetables, but the small half bushels of yellow bean always stops me right in my tracks. The sight of  freshly picked, ultra-thin, bright yellow beans always brings to mind memories of my dear sweet Mother.  When we were kids we visited a farm market on the way home every day to get vegetables for dinner and fruit for the 3 mile ride home. Our parents loved fresh vegetables, but my Mother's face would light up at the first appearance of yellow beans and we ate them every day until the last bean was picked for the season.
Yellow beans make me sad, make me happy and make me miss her again and again, year after year. The first thing that she would cook was yellow beans with pork chops, small white potatoes, oregano and tomatoes. The whole house was filled with the smell of garlic and oregano, filling us with anticipation. We stayed close to the stove talking about our day and snipping the beans. Sneaking small spoonfuls of juice out of the simmer pot to taste without ever being scolded because she always made extra. Being her daughter was as sweet as it gets.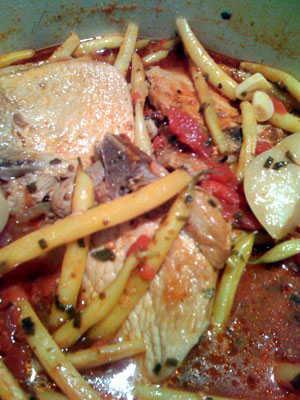 I haven't had that dish in over 20 years because the thought of making it made me too sad. No long conversation with my mother and so many things to catch her up on. I just avoided making it, but I missed eating it. Well, this year is different. Maybe because the beans are as perfect as I remember them as a child or maybe I need to smell that comforting aroma in my house – which is the same house that I grew up in – or maybe I am old enough to share and pass along a piece of my mother and the comfort and love that she always created. I feared that maybe I hadn't payed attention well enough and thought how very sad it would be if it didn't come out as well as I had remembered; however, I was ready finally, to tackle it.
My sister and I snapped the beans together...somethings were sweetly the same. There was a feeling of intense concentration in our small store kitchen on both our parts. Mine was to get it all correct – the cutting (my hands), the seasoning (smell), the browning of the chops (my eyes) – all my senses were on high alert. My sister paying close attention so she knew how to recreate it and the pure excitement at eating our favorite childhood summer dinner. Both of us stayed close waiting and watching for the mixture to boil, cautiously using a small flame so nothing caught on the bottom because it is best not to stir the simmering pot until the very end when you serve it. As we talked about what had happened in our store, what needed to be ordered for tomorrow, we joked about our seriousness over a simple simmering cauldron. And then it happened, that same smell filled the air, the same one from our childhood together many years ago....
Julie D's Yellow Beans and Pork Chops
8 - 1-inch pork chops, with the bone
1 cup chopped onions, 1/2 inch pieces
5-6 cloves of garlic, finely chopped
1½ pounds of snipped yellow beans
1 tablespoon dried oregano
4 freshly dug white potatoes, cut in quarters
1½ cups canned plum tomatoes, break them up with your hands, juice and all
1 cup of water
Salt and pepper to taste
In a large pot, cover the bottom with olive oil and heat over medium high. Add pork chops, brown on both sides but don't crowd the pot. Remove them to a plate when they are nicely browned.
To the olive oil add the chopped onions and garlic. Sauté until translucent. Add the quartered potatoes, the pork chops, the oregano and finally the yellow beans. Pour the tomatoes on top and then the water. Cover and simmer for 25-30 minutes, shaking the pot every 10 minutes.
Let the pot sit for 10 minutes without lifting the lid then serve.
Brenda Athanus runs a small gourmet food shop in Belgrade Lakes, Maine with her sister Tanya called the Green Spot.
The Green Spot
This email address is being protected from spambots. You need JavaScript enabled to view it.
207.441.9327