How To Stop Your Relationship from Getting Dill
by Sophie Kipner
Remember how umami always told you that the way to a man's heart is through his stomach? Well girls, this is How to Keep it Fraiche with Rosemary Garden and I'm here to reassure you that if you work with the ripe ingredients (all of which are outlined below), you will never have to play ketchup in your relationship again. The key is to learn how to sift your mindset.
Rule #1: Keep it spicy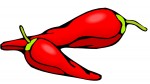 Take a lesson from Cayenne; even though she's a bit of a bitch sometimes, she always knows how to kick it up a notch. I often tell students at my seminars that if we let our relationships go bland, it's hard to go back cold turkey.
Rule #2: Don't make a main out of a starter
Remember ladies, don't wine and always keep it cool. It's just not worth it to get nuts over the small things. If you find yourself in a pickle, butter up your lover and tenderize him with a meaty rub down.
Rule #3: Say yes to pepper
I grew up with five sisters in Worcestershire. I recall my mother telling us that you must relish each moment and remember that no batter how many courses you're preparing at one time or how fried you might be, it's imperative to pepper your partner with love and attention. It's a grate way to add flavor without getting too burned-out.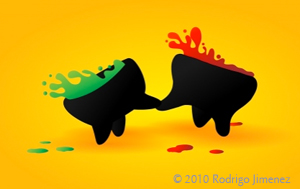 Rule #4: Learn to salsa
Add something unusual to your weekly routine. Throw in a few impromptu salsas with your man at home to really turn up the heat. (No one likes a lukewarm fish.)
Rule #5: Make thyme for each other
This is a rule I'm sure you've all heard before. If you don't chop things off your schedule and make thyme for your man, things will start to get dicey. Fast.
If you integrate these guidelines, you'll see that everything will start cumin together. If you don't, you'll be forced to get Chimi with Churri while your hot sauce is off looking for another rack. And gentlemen, when it's chilly and your lady kneads some warmth, remind her to put her cardamom on. (Use the opportunity to get close.)
With love & lite,
Rosemary,
The Sage
More of Sophie's writing and artwork can be found on http://skiparound.tumblr.com.
Italy


by

Libby Segal





Normally, one encounter with an old bear would terrify a person. It would probably scare a person out of the wilderness and into solitude for an unforeseeable amount of time. It would most likely...

Read more...

San Francisco


by

Melanie Chartoff





It's so darn good to get awaaaay. I'm bored with the predictable patterns of my home life: my constant computer, my cooking, my own backyard. My brain craves novelty, my tongue new tastes, my...

Read more...

Georgia


by

Amy Ephron





We were in Savannah last week-end and we went out for a drive on Sunday afternoon and out to lunch just across the bridge in Thunderbolt at a small wooden shack called Despositos.The wood...

Read more...

Los Angeles


by

Jo Stougaard





Since our very first visit to Pizzeria Mozza (Christmas Eve 2006), Peter and I have continuously wished for two things: That Mozza would offer a Pizza-to-go / Delivery service, and that Nancy...

Read more...