You gotta love a guy like my friend Howard. On Memorial Day Monday at 10:30 a.m., I called him in Santa Monica from my bed in Sherman Oaks and said, "Whatcha doing today?"
"Don't have anything until 4 o'clock," he said.
"I don't have anything till 6 – wanna go to Artesia and check out some of the Indian restaurants?"
"Oh yeah," he said, "meet ya at the corner of Artesia and Pioneer Boulevards at noon."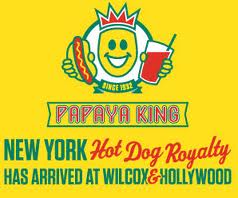 "Fab, see you there." Jumped out of bed and hit the shower.
Next to the joy of eating a long, festive meal at a giant table surrounded by family and friends, my favorite culinary ritual is the food safari, an expedition off the beaten track in search of something new and delicious. My sister Jo will drive to the four corners of the earth with me to try a new pizza joint that we've heard is good. There was the 2-hour car trip up to Hartford with the old boyfriend, because we'd read great things about an old diner. And my very busy bud Peter managed to keep a lunch open last week so that we could go sample the hot dogs (five different ones!) at the new Papaya King in Hollywood.
I have lots of foodie friends. Some live for Michelin-starred restaurants, some relax by cooking elaborate meals at home, some are masters of the barbecue universe, some are farmers' market devotées, some lust for mail order treasures, and some, like me, love heading to parts unknown to find edible surprises. In LA, NY, London, Paris, Toronto and Vancouver – the cities in which I've spent the most time in the last 20 years – I love visiting new neighborhoods and trying small, unassuming Indian, Moroccan, Italian, Chinese, Jewish, Portugese, Japanese, Lebanese, Filippino, Korean, Pakistani, Thai, Spanish, Russian, Turkish and German joints. Part of the pleasure is simply good food, but part is also the journey out of a familiar world and into a new one. So I'm lucky to have fearless FFFs in Howard and Alan, guys with inquisitive palates and a touch of wanderlust.
When Howard and I arrived at the Little India crossroads, we discovered that most of the famous places were closed – whether for lunch, for Monday, or for Memorial Day we never knew. But it really didn't matter, because there were enough unpretentious, little restaurants and markets open that we could happily sample lots of samosas, pakoras, curries and spices.
Howard loves exploring as much as I do and is never deterred by distance, which is a good thing, since the ethnic communities in LA and Orange counties are spread over 6,000 square miles. We also spent a day in Westminster's Little Saigon, trying banh mi joints and bakeries (oh, the baguettes!). We roamed east LA looking for Vendy award winner Nina Garcia's quesadilla cart with no luck, so we turned around and headed to MacArthur Park for Langer's excellent corned beef on LA's best rye bread.
We slammed out to Eagle Rock to try Oinkster the day after Guy Fieri sang its praises on Diners, Drive-Ins and Dives, only to find greater satisfaction a few blocks away at Dave's Chillin' and Grillin', where Dave makes your sandwich exactly the way you want it. And we've toured Thai Town, Koreatown, Arcadia, the multi-national Sherman Way corridor, Mercado La Paloma in southeast LA, and so many food trucks we've lost count.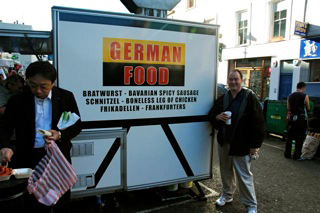 A few years ago, Howard revealed his true colors as a Foodie Friend Forever like this: he was taking his octogenarian mother and her friend on their first trip to London, so he came to my house to go over some basics. I quickly listed all the requisite sights and then launched into great detail about my favorite London eats, the ones you don't find in Gault-Millau.
The next day, Howard called and asked very sincerely, "Do you think there's something wrong with me because I'm more excited about trying the German Food Truck than going to Leeds Castle?" "Hell no," I laughed, "you are a man after my own heart!" Days later, he emailed me a picture of himself grinning next to the truck, having just had his mind blown by their simple grilled bratwurst with caramelized onions and hot English mustard on a crusty roll.
Since then, we've had a blast roaming LA trying to replicate that sandwich, and we've sampled bratwurst everywhere from Brats Brothers in Sherman Oaks and Wurstkuche downtown to Continental Gourmet Sausage in Burbank, Grindhaus in Hollywood, and the European Sausage Co. in Beverly Hills – which is our fave. With an unshakeable devotion to our food safaris, Howard is my #1 LA FFF.
And then there is Alan, my #1 NY FFF. Sometimes it's hard to coordinate our schedules when I'm in NY, not to mention that he has more self-control than either Howard or I do: Benedict Alan does not feel compelled to submit to every food opportunity just because it's there! Still, my life-long friend can be counted on to join me for at least one safari when I'm in the city of my birth.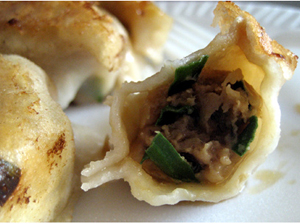 We've been to BBQ joints, burger bars, old-fashioned candy stores, food carts, Indian and Cuban places, falafel stands, soul food restaurants, salumerias and lots of smoked fish houses. Alan's suggestion of Prosperity Dumpling was a revelation – where else can you get 50 fabulous dumplings for $8? Recently, we embarked on a trek inspired by David Sax's book "Save the Deli
" (about the slow disappearance of the classic, Jewish deli) and the never-ending search for perfect pastrami on rye.
At this point I should say that last year, Sol & Sol, my favorite deli in the world closed after 63 years in business in Englewood, NJ, and every time I've gone east since, I've been scouring the metro in hopes of finding a reasonable replacement, without any luck. They had the best brisket, corned beef, pastrami, turkey, tongue and matzoh ball soup ever. I even once had their impeccable hot dogs (supplied by Empire National) shipped to me in LA.
Clearly, any new deli starts at something of a disadvantage, not to mention that this new one was very off the beaten track...in Queens. Alan came south, I went north, and we met on the subway platform at Rockefeller Center, got on the M train, and headed out to Rego Park with the highest hopes for Ben's Best Kosher Delicatessen, which I'd first heard of when Sax was interviewed there by Robert Siegel on NPR's "All Things Considered."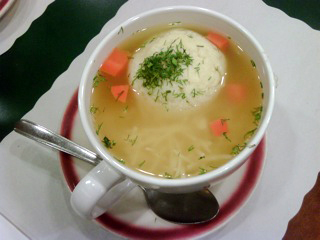 As unfamiliar as the neighborhood was to us, the first thing we noticed when we walked into Ben's was the very familiar smell and the comforting, old-world atmosphere – glass deli counter along one side, hanging salamis, piles of rye breads and knishes, neon signs, counter men in white working the meat slicers, formica tables in the back.
I wanted to try a dozen different things, but they don't do tapas at Jewish delis (damn!), so we both ended up ordering the same meal: matzoh ball soup and a pastrami sandwich. The soup was really good and the sandwich was pretty good, too. Although Ben's didn't lessen my distress over the loss of Sol & Sol, I liked it. We had a great time, did some bargain shopping nearby, and went home happy campers. Good chance we'll go again.
Yes, the food and the adventure are wonderful, and they are the impetus for these safaris, but of course the ultimate gift is friendship – the sheer joy of hanging with friends – noshing, noodling, evaluating, debating and laughing. Always laughing.
So, Howard, Alan, Peter, and Jo – not to mention Max, Melinda, Randi, Stuart, Mary, Pamela, Larry, Becka, Ian and Dan – thanks for being my fellow travelers, my partners in crime, my Foodie Friends Forever.
Ilene Amy Berg (aka The Berger Queen) is a television producer, antiques hunter, New York and London lover, and intrepid food adventuress.