That night, we met over Kate Mantilini's meatloaf, a generous slab of mixed roast beasts—beef, pork, and veal, seasoned with onions and garlic and the perfect soupcon of pepper and salt, and the conversation was delicious, too. It was mid winter 1987, and in terms of warming, filling, non-carb comfort food that goes down easily, meatloaf is probably the best darn thing one can ingest. Intellectual rapport is always an ideal accompaniment.

Marilyn Lewis's Meatloaf
If I told you to get a big bowl out and put your gloves on (I cannot even write the word plastic)..then throw in your really cold chilled favorite choice of ground beef, veal and pork (or all Beef)...Read full recipe

Lois Chiles' Down-Home Meatloaf

Wolfgang's Bacon-Wrapped Meatloaf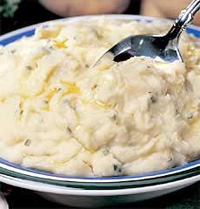 Since a meat grinder had practically pre-chewed the main course for us, our dialogue was unceasing and effortless, pausing mere milliseconds for the occasional, nearly superfluous swallow. We shared a side of homey mashed potatoes and fed each other at that first dinner, both food and funny lines, always a good sign. Especially after our first shy lunch where the, sadly, now defunct Tommy Tang sides of sushi's defined, game board type pieces of perfection had confined us to our own little plates -- suitable as we had arrived in separate cars that first day. We'd been introduced to one another by a Hollywood talk show host, but our topics were anything but superficial.

From then on James and I arrived everywhere together. We became Westwood meatloaf aficionados, enjoying the originality of Mateo's Little Taste of Hoboken's large portion, pure chopped beef, studded with a confetti of carrots and onions and a sprinkle of red pepper, and slathered with a hickory laced sauce. Partaking of The Main Course's white gravy laden turkey loaf, mixed with oatmeal and onions in a generous portion that would fill one up for hours and then feed one from its doggie bag for days, bound us together all the more. We began to take one another pretty darn seriously.

"I make a mean meatloaf," I said boldly, invitingly.
"Prove it," he said bravely, acceptingly.

In that era, I had great hand vanity—my hands were shown as comic characters in close up on a TV series—and I was madly protecting my manicures. I only made contact with food through rubber gloves, or via my William Sonoma cooking utensils and silverware for the three years the show ran. No problem with my mate in waiting. He performed his part of food preparation willingly in ways that showed promising self-sacrifice and prowess. I enjoyed the way he kneaded the beef, egg, rice flour mix so sensuously in my big blue bowl, digging his fists and fingers into the meat mass without vanity or hesitation.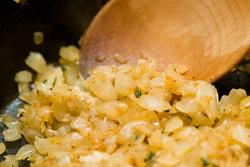 I observed him closely whilst I tidily sautéed the onions and garlic, then stirred them into the red pepper/ red onion tomato sauce with a big wooden spoon to waft its intoxicating qualities his way. He was Italian and I wanted to smell like home to him. It worked. We began to look at houses in that meat loaf restaurants area.

That experience told us much we needed to know about our ability to collaborate with consideration. I'd hand him a towel to wipe his hands, he'd wash the bowl as I formed the meat mix in the perfect loaf pan and baked us the first of our many home cooked loaves. And he washed the pots and pans and did so faithfully for a baker's dozen years.

We still share meatloaves, though we arrive in separate cars as dearest friends, and to this day, when I make one, I always save a slice for him.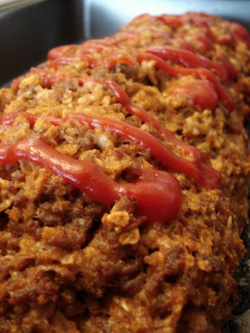 MELANIE'S EASY MEAT LOAF

2 lbs. chopped organic beef
1 egg
¼ cup white flour
½ cup chopped Maui onion
¼ cup minced garlic
¼ teaspoon salt and pepper to taste
1 tablespoon olive oil
1 cup red pepper and onion tomato sauce, any brand.

If maintaining a manicure, mince the onions and garlic in a food processor, or in spurts in a blender. Saute the onions and garlic in the oil in a fry pan til translucent, or top brown them briefly in a toaster oven pan. Have a friend mix all other ingredients, except the tomato sauce, together well in a large bowl. Preheat the oven to 400°F.

Add the garlic and onions, and half the tomato sauce, and mix well. Shape the meat mix into an oiled loaf pan, (9x3x5) topping with the remaining tomato sauce to make a slightly tart glazed crust. Bake 45 minutes, or until cooked through and slightly top browned, occasionally draining the liquids from the pan so it bakes rather than boils in its own juices. Serve sliced and enjoy!