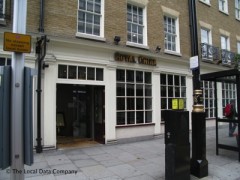 When visiting London recently and wanting to try some of the vaunted restaurants there I was fortunate to find The Royal China Restaurant which together with its sister/brother Sun aptly called the Royal China Club hold a place of esteem on Baker Street quite close to the infamous 221B Baker Street where Sherlock Holmes dwelt in times gone by. I had been quite lucky in the weather and this day again I made my way under blue balmy skies looking forward to some good Chinese grub.
The Royal China Club has more of a genteel and rarified atmosphere almost as if overseen by a great Chinese master although this perhaps is what draws a certain element of people here to dine and wine. Great lit up tanks are home to many lobsters swimming around quite aimlessly waiting to be served in a tantalizing array of dishes. And the long bar would be a great place to sip cocktails whilst waiting to be seated.
My choice was to dine at the Royal China Restaurant definitely more homey but still beautifully decorated in the style and vibrant colours of China.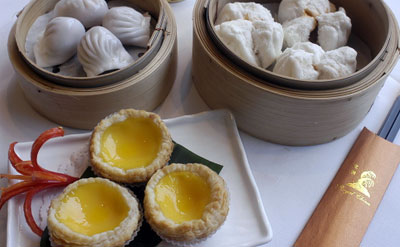 It was before 4 pm when II arrived as I wanted to sample the Dim Sum which they are known for. Fried and steamed with diverse fillings around which a casing of soft white paper thin dough wrapped carefully is cooked and brought to the table with little pots of spicy sauces. It was hard to choose but the steamed prawns with coriander, chicken mushroom bun and minced pork with shrimp made my taste buds very happy.
No Chinese restaurant of note would measure up if they did not serve noodles and rice prepared in many different ways on their own or accompanying some splendid mains like, sliced choice beef and vegetables, Shanghai style fried Udoni and spicy pickled vegetable and minced beef vermicelli to name a few.
Seafood in London is a must and RCR offers a large choice of fresh prawns, sea bass, Dover Sole and braised abalone cooked in a variety of ways my mouth is watering now in remembrance of seeing them being served at other tables especially when accompanied by sea cucumber!
Meats are another succulent choice from crispy Peking Duck, breaded pork chop, Mandarin Fillet Steak, tender Veal they all find a placement on the menu to be consumed by hungry sychopants of this delicious food.
Vegetarians are not forgotten nor given second place whilst Bean curd, crisped vegetable rolls and other stylized dishes of China can be ordered and brought to your table by helpful servers.
There is a wide wine and cocktail selection because we Brits love our booze and RCC rustles up some amazing cocktail mixes for you to enjoy. Chef Specials are also on the menu so you can try a number of dishes recommended by the Chef himself.
I finished up this amazing repast with pan fried Red bean pastry and coconut cream pudding...oh oh oh...my tastebuds still savour them even in memory alone.
When next in London be sure to take a walk down Baker Street and treat yourself to lunch or dinner at the Royal Chinese Restaurant. You will be well pleased!
Born and raised in England, Carolan has traveled extensively throughout Europe, North America and the UK since 1985 as a freelance international food, wine and travel writer and radio personality.