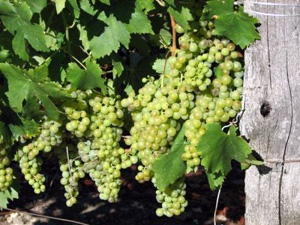 You heard me. This wine, which is made from the muscat grape in a frizzante-style (mildly bubbly) in the Piedmont region of Italy, is one you should get to know. Even though I drink a lot of wine – from sparkling to port – it's easy to forget about Moscato. Mostly because I don't often get the opportunity to drink it. I'm the only person I know who loves dessert wine, so it's hard to justify opening a bottle to drink all by myself. I have, it's just not something one should make a habit of. Usually I have to quench my cravings for this delicate, fizzy confection when I'm out to dinner. While everyone else digs into the chocolate cake or bread pudding, I satisfy my sweet tooth by sipping. All the pleasure, none of the fat.

Yes, muscat grapes make super-ripe, overtly-fruity, wildly-perfumed wines, but that's why they are so good with dessert. This family of grapes is grown all over the world and is one of the oldest recorded varietals, yet it fails to get any respect. Sure there are bad versions out there, but that's true with every grape. What I fail to understand is the complaints that it's too sweet…even versions that are fermented dry. A criticism I find fairly hollow coming from the mouths of people who drink soda, juice and sugar-laden caramel frappuccinos.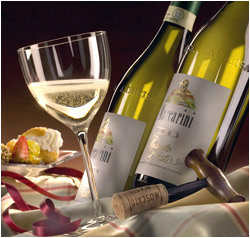 Pair it with a peach tart, apple galette or poached pears allowing the fruit flavors to combine and complement each other and the fizzy finish to chase away the sweetness, leaving your palate ready for more. Moscato D'Asti's aren't complicated wines to be pondered over. They are light, refreshing and fun. Meant to be enjoyed in their youth before their bright fruit and intense aromas fade away.
I can still taste the Elio Perrone Bigaro Rosé – a mix of muscat and brachetto (a red grape that gives this wine its' bright strawberry color). It's intense red berry and stone fruit flavors are balanced by a delicate mousse that made me what to dive into the glass head first. A wine designed to make you happy. Who can complain about that?

Tiny bubbles make a gathering seem more festive, so think about getting a bottle or two to share with friends and relatives in the months to come. Moscato d'asti is fairly low in alcohol – 6-8% abv – so you don't have to worry about anyone getting too tipsy from enjoying a glass or two. Acidity and balance are the keys to any great wine, so if you're going to venture into this sector I would suggest seeking out the following producers: Ceretto, Saracco, Icardi, Elio Perrone, Marcarini and Michele Chiarlo.
Next time you're in a fine wine shop, hit the dessert section and pick up a bottle. (Make sure it's a DOCG-designate wine.) They aren't very expensive, usually in the $15-$20 range, which is cheap for bubbly. Who knows? You might just be surprised by how much you like it, which is what makes the world of wine so constantly interesting and delicious.
Lisa Dinsmore is a writer, web programmer, movie and wine lover. She currently runs two review websites to share her passions: www.crazy4cinema.com and www.dailywinedispatch.com. She is also the Managing Editor of One for the Table.