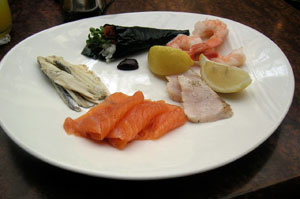 It's not about over-abundance, although it sort of is. I'm not the kind of person who loads their plate up full to the brim -- in fact, I don't even like it when my food groups touch, although that's part of it, too, I guess, the fact that you can have multiple plates, like as many as you want. Like an egg plate (any omelet you want, scrambled eggs, bacon, sausage) and a fish plate (high-end fish, like Nova Scotia salmon and seared albacore and shrimp) and a fruit plate and a turkey plate (if you actually wanted roast turkey and all the trimmings for breakfast) and a konchee plate, whatever that custardy konchee stuff is (and I'm not even sure I'm spelling it right) and a sushi plate, made fresh there right at the bar, and I don't even want to discuss the dessert plate although I have to mention the candy apple.

The breakfast buffet at the Wynn Hotel in Las Vegas is $37.50 for starters, which I think is amazing since you can practically spend $37.50 in Los Angeles for bacon and eggs. Practically, by the time you get done with orange juice and latte. (I actually don't think people should drink alcohol unless the sun goes down,so it's probably more if you want champagne or a bloody mary, but the straight shot is $37.50.)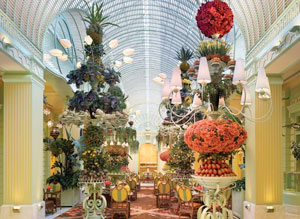 But it's not that. It's the room, this sweet atrium room with glass ceilings and floral displays that stretch to the ceiling that are made out of vegetables or faux vegetables, I'm not really sure which one, whether they're actually vegetables or the Disneyland version of vegetables, I guess the latter. But they're charming nonetheless. And that you can hold the table for as long you want without a sense that's anyone's pressuring you, linger there, in fact, over your third or fourth course. Or if you're with a big party, people can drop in and visit you even if they had breakfast 3 or 4 hours before.
But it's not that either, it's sort of that you can have anything you want, as if you truly are the kid in the candy store and everything is there for the taking and it feels like an indulgence, in the best sense of the word, even if you don't over-indulge.