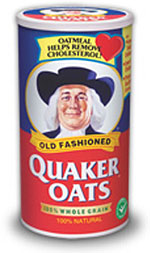 The thing I remember most about baking oatmeal cookies when I was 8 years old was that the bottoms always burned. Even if you faithfully followed the recipe on the back of the Quaker Oats box to a tee, which I absolutely did, when you pulled the sheet out of the oven, slid your spatula under that first lightly browned mound and peered hopefully at its underside, all you got was burned.

Over the years, I tried greasing the pan and not greasing the pan. I used the milk, I didn't use the milk, I sifted and then I didn't. I lowered the oven temperature, baked them on the bottom rack, the upper rack, a shorter time, a longer time. But no matter what I did or didn't do, the outcome was the same: rear ends black as coal. There was just no justice. And you know what they say: No justice, no oatmeal cookie.
So I moved on: to sublime Viennese Butter Crescents, (butter, finely chopped walnuts, more butter, a relatively small amount of sugar, and flour, mixed together with your fingers very gently til the dough forms tiny, pea-sized balls which you shape into crescents, bake in a slow oven and roll, still warm, in powdered sugar in which you had previously soaked a pulverized vanilla bean); to perfecting my calling-card Chocolate Chip Cookies; to tender, flaky Rugalach, and to learning the secret of making the greatest Brownies ever (remove pan from oven and immediately place into an ice bath til absolutely cool). I was happy. Life was sweet. You couldn't pay me to bake an oatmeal cookie.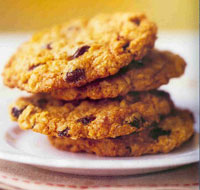 But one day, flipping mindlessly through a cook book, I landed on a recipe. Maybe because these were called 'lacy,' they already sounded thinner. They used quick-cooking oats instead of Old-Fashioned. The ratio of oats to butter seemed mathematically perfect. And they didn't call for regular old raisins, but rather tiny, dried currants. They sounded downright delicate. What the hell, I thought, what's the worst that can happen? They'll burn? So I baked them.

That was eighteen years ago and I've never stopped making them. They're not just addictive, they are the crack of the cookie-world.

They have won over the most ardent chocolate chip fan, the most passionate brownie maven. It is they who are invited (begged?) to dinner parties: I'm asked only because I'm their driver. And that's alright. Really. I don't mind. Because the thing that makes me the happiest: the bottoms never burn.


Katherine's Oatmeal Cookies

3/4 cup all-purpose unbleached flour
1/2 teaspoon cinnamon
1/2 teaspoon baking soda
1/2 cup light brown sugar, packed
1/2 cup granulated sugar
11/2 cups quick-cooking oats
1 stick (8 tablespoons) unsalted butter (preferably European Style) at room temp
1 egg
1 teaspoon vanilla extract (a little more doesn't hurt)
1/4 cup chopped walnuts
1/2 cup dried currants

Preheat oven to 350°F at least half an hour before baking.

In a bowl, toss flour, cinnamon, oats and baking soda together. Set aside.

In the bowl of an electric mixer, cream butter and sugars together on medium-high speed til light. Add egg and vanilla and beat til incorporated. Turn mixer speed to low and slowly add the dry ingredients, about a third at a time. Remove bowl from mixer and gently stir in the walnuts and currants by hand.

Drop batter by rounded teaspoonfuls onto greased cookie sheets, 2 inches apart. Bake until golden brown, about 10 minutes, turning the sheets back to front once during baking. (If you are baking two sheets at a time, switch them from top to bottom halfway through baking.) Leave the cookies on the sheets for a minute or two before transferring them to wire racks to cool.

Wrap in tin foil, then store in sealed plastic bags or airtight containers.

Makes about 4 dozen cookies

Adapted from "The New Basics Cookbook"
Send us your This email address is being protected from spambots. You need JavaScript enabled to view it.