Venezia: Food and Dreams
is a love letter to Venice. Reading it and cooking from it is a bit like looking at a Caravaggio painting. The dreamlike colors of the photos, the lovely setting of Venice, the simple yet forthright recipes. This book is written, photographed and designed in a dreamlike fashion; one that is so often associated with Venice. Tessa Kiros knows her subject well. In addition to the wonderful recipes, Kiros sprinkles in her thoughts, and comments; her experiences in the city in the form of poetic moments. Many of the photos are of the city itself and its citizens, or of the colorful buildings, or of Carnival; not only of food and recipes. This book is one of the most beautiful cookbooks I have come across in a long time. And the food and recipes, as I came to find out, are as delicious as the book is beautiful.
Kiros divides the book into sections that mirror an Italian menu: Antipasti, Zuppa/Pasta/Gnocchi, Risotto, Secondi, Contorni, and Dolci — with additional sections on Essential Recipes and Cicchetti, small bites unique to Venice. As she unfolds the sections she weaves in her thoughts and comments about Venice, about a dish, a little history, or a moment in time. In one she describes trying to stand up in a gondola like the Venetians do; feet apart to steady yourself so you won't fall down. She mentions that a sure sign of a tourist is one who sits versus stands. Standing up allows more people to ride. I loved reading this. I laughed when I saw in the front of the book in the Essential Recipes section that the first entry is Polenta with recipes for both 'fast' (using instant) and 'slow' preparations. I like that it's the first thing you see and that she offers both ways of cooking the dish. It's a nice starting point.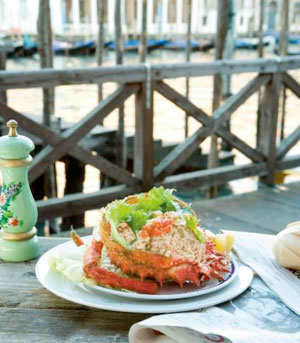 From there it's a slow, leisurely roller coaster ride through an Italian menu via the dishes of Venice. As Venice is known for its seafood many of the recipes have fish and seafood in them. Sardines, scampi, octopus, baccala, anchovies, clams, scallops, branzino, crab, calamari, appear in every other recipe. Dishes like Spaghetti al Nero de Seppie, (Spagehtti with Squid Ink) to a simple, ubiquitous Mista de Pesce (Mixed Grilled Fish). Other interludes involve her trying to get the locals to divulge their recipes; she writes that while Venetians offer up directions at the drop of a cappello, getting them to give up secrets to their cooking is not so easy.
Over a recent weekend I cooked several recipes from the book: Polpette di carne (Meatballs), Bigoili in salsa (Healthy pasta with anchovies & onions), Brasato con amarone di valpolicella (Braised beef with amarone), Radicchio al limone (Radicchio in lemon), Fast Polenta. I can say that they all worked beautifully and were huge hits with my dinner guests. At one meal we ate the braised beef, the raddichio and the polenta: the oohs and ahhs didn't stop until the last morsel was consumed. It was truly, restaurant outings included, the best thing I've made and eaten in a very long time. I chose the beef dish as I wanted to buy meat from a new local butcher McCall's Meat & Fish Co. located in the Loz Feliz neighborhood of Los Angeles. The piece of chuck that butcher Nathan McCall sold me was perfection. Combined with the amazing recipe it was an incredible thing! A dish I will make again, and again, and one I highly recommend. And it couldn't have been easier to prepare.
The radicchio (sautéed in olive oil, salt and pepper then simmered in lemon juice for ten minutes) was a beautiful combination of bitter plant, tart lemon juice, olive oil and saltiness: so simple yet so satisfying. The next night for Sunday dinner I made the meatballs and the pasta. The pasta dish was wonderful; a slight hint of the sea due to the anchovies, the cooked-down-to-sweetness onions a perfect compliment. This dish would be great for a light meal, add a green salad = perfetto! The meatball dish was the only one I had any trouble with but I think it may have had more to do with operator error than a flaw in the recipe. For some reason (my guesses: too much oil, not hot enough, meatballs not cold enough, pan too crowded, ratio of beef to potato wrong) I couldn't get the meatballs to stay together when I cooked them. I would have liked the recipe to offer a tad more guidance during the cooking process. That's my only critique. We still ate them, they were still very good.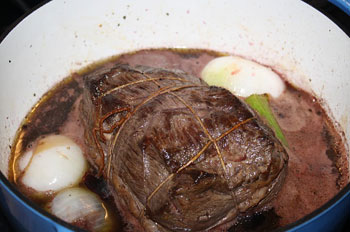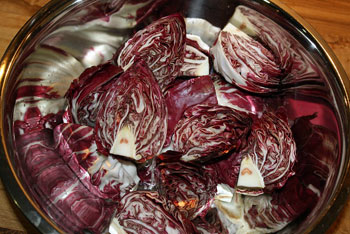 I love this book. There are so many recipes I still want to try. Dishes I've eaten on my travels in Italy, or at restaurants here in the U.S. but have never made at home. I've never made anything with squid ink, I'd like to try Maiale al latte (Pork in milk) because I've heard of it before and it intrigues me, and I've never made a salt cod preparation at home either. So one day soon, back in the kitchen with Venezia: Food and Dreams
, and more Venetian cooking, eating and dreaming.
Buon appetito!
Charles G. Thompson is a Los Angeles-based freelance food writer, whose reviews and stories can be found at his blog 100 Miles, an exploration of local sustainibility.