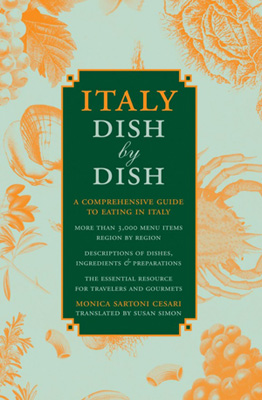 Having lived and traveled in France repeatedly over the years I know pretty well the regional differences when it comes to food. Like what the specialty of a region is, or where a specific dish hails from. Italy is another matter completely. I have a general sense of the regional differences, north versus south, Tuscan, Roman and Sicilian. Those differences also vary widely from village to village and province to province. The longest stretch of continuous time I've spent in Italia was two and half months. I spent that time in the region of Umbria — smack, dab in the middle of the country. Food there was unfamiliar, and I could easily have used the wonderful book "Italy Dish by Dish" to guide me and answer unending questions I had about the region's food.
"Italy Dish by Dish
" is here to answer travelers' (both armchair and mobile) questions about what is what when it comes to food, eating, cooking and dining in Italy. The book describes more than 3,000 dishes found throughout every region of Italy. Broken down by region each chapter is organized alphabetically by course then by ingredient and ends with an iconic recipe that represents that area; for example the chapter on Umbria ends with a recipe for Pizza di Pasqua al formaggio – a dish I remember fondly. There are also listings for the region's cheeses and wines as well as food and wine pairing suggestions. A detailed glossary describes the bounty of the land and sea that makes up la cucina italiana while an index easily puts menu items close at hand.
The book is small enough to fit into a day bag. Using it will allow the traveler a deeper, more connected experience to the foods of Italy by knowing exactly what is on a menu, what ingredients a dish contains and how it's cooked. Not only is this book handy for the tourist on a short visit but also for anyone staying longer: renting a summer house, studying, or living for an extended period, or even moving to la Repubblica Italiana permanently. If the book had been available when I lived in Umbria I would have taken it to the local grocery store, referred to it for recipes to cook at home, and used it when eating in restaurants. It will definitely be in my pocket the next time I travel to Italy.
Buon viaggio e buon appetito!
Italy Dish by Dish: A Comprehensive Guide to Eating in Italy. Monica Sartoni Cesari. Translated from the Italian by Susan Simon. The Little Bookroom. $24.95. (378p) ISBN: 978-1-892145-90-1
Charles G. Thompson is a Los Angeles-based freelance food writer, whose reviews and stories can be found at his blog 100 Miles, an exploration of local sustainibility.