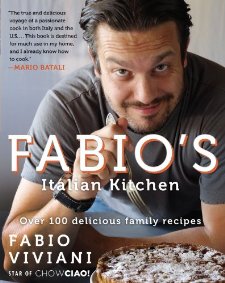 Like many people I was first made aware of Fabio Viviani on Top Chef Season 5. It was clear from his no-nonsense style of cooking that he wasn't going to win the title. He didn't exactly stretch himself creatively in the kitchen, making what he knew and liked, usually always Italian, and never apologized for it. He grew up cooking with his grandmother, in an effort to control his high-octane energy and keep him out of trouble, but eventually he learned to love it and that's apparent in all of the food he cooks.
He moved to the United States in 2005 at the age of 27 with a lot of experience under his belt. He first started working in a professional kitchen at the age of 14 and currently has two restaurants in Los Angeles. Thankfully one of them, Firenze Osteria, is close by, so I've had the pleasure of eating his food many times. I even took a risotto cooking class from him one Saturday afternoon to try to help my homemade versions get better. They have, and yours will too, thanks to his new cookbook Fabio's Italian Kitchen
, which contains six different versions, as well as another 100 traditional recipes he grew up cooking for his family.
He grew up poor, so the book features mostly traditional Italian dishes that don't require a lot of fancy ingredients to be good. Many of them have ingredients that can be found in almost everyone's pantry and while they may be simple, it's the techniques and years of experience at the stove that elevate them to the next culinary level. There are no shortcuts to making great food. Time being the biggest luxury item required from Fabio. Uncomplicated does not necessarily equal quick.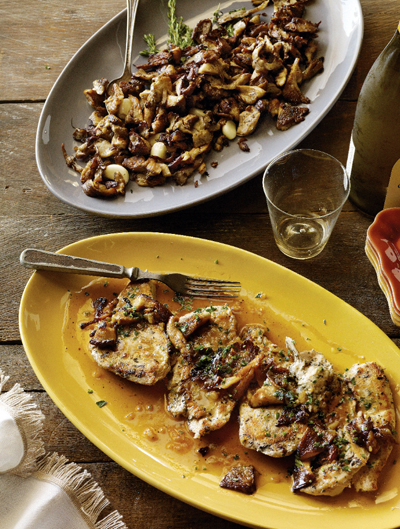 There are some recipes like the Drunken Spaghetti and most of the appetizers that take under a half an hour to make, but that's not the norm. He makes his sauces and pastas by hand, so be prepared to spend some time in the kitchen. Don't worry the food is worth the effort. And his stories will keep you highly entertained in the down times. He was voted Fan Favorite for a very good reason. His charm oozes sweetly and amusingly off the pages. He's one of the few celebrities I've ever met who is exactly the same in person as they are on TV. He's just a guy who loves to cook and his passion is infectious.
Time is not my friend so I chose some of the less complicated dishes to try out first. The Chicken Marsala was simply perfect served over sautéed spinach. A great dish to impress dinner guests. His Mother's Meatballs nestled into his Saffron Risotto recipe was an earthy combination I decided to put together. I was sad to not have any left for my lunch the next day. Moist meaty meatballs. Oh, yes.
However, the one that surprised me the most was the Gnocchi with Sausage and Leeks. We are sauce people. Usually the more the better, but this was so light, yet so flavorful, I made sure there would be leftovers. I must confess to using store-made gnocchi (sorry Fabio) so I can only imagine how much better it would have been had I made my own at home. I will. I promise. Someday. Mostly because the Pesto Gnocchi he serves at this restaurants is, hands down, the best gnocchi I have ever had. (The recipe is included in the book.)
This book makes me want to cook and I can't wait to keep going through it. Next up Grandma's Meatloaf, Bored Lamb in Chianti and those pesto pillows from heaven. My mouth is watering already…
Chicken with Marsala Sauce (Pollo al Marsala)
Serves 2
2 tablespoons butter
1 sprig thyme
3 gloves garlic, smashed
1 cup oyster or shiitake mushrooms, sliced
Salt and pepper
2 boneless, skinless chicken breasts
2 cups flour
1 tablespoon olive oil
1 cup sweet Marsala wine
1/4 cup heavy cream
Melt the butter in a nonstick pan over medium heat. Add the thyme and let it heat through, then add the garlic and the sliced mushrooms. Season the entire pan with salt and pepper and cook until the mushrooms begin to brown and crisp, about 5 minutes.
Meanwhile, pound the chicken breasts with a mallet until they are about 1/2-inch thick. Dredge each chicken breast in flour and shake off the excess.
Heat the olive oil over medium-hight heat in a separate nonstick pan. Add the floured chicken breasts and cook them for about 2 minutes on each side. Add the wine to the pan and let it start to reduce, the add the mushroom, garlic, and thyme mixture to the chicken pan, along with the heavy cream. Cook over medium heat until he cream a had reduced and thickened. Remove the chicken from the pan and serve topped with the sauce.
Fabio's Mom's Meatballs
Makes 8 meatballs
This is probably the best meatball you ever had in your life, or perhaps second only to the one your grandma makes. It's certainly easier, because there is no bothering Grandma here. The best thing about these meatballs is that they stay super moist regardless of how much you cook or overcook them. The tomato sauce preserves the moisture. Everything about meat¬balls calls for soft and moist. Everything about cooking something in the oven calls for hot and dry. Soft and moist does not go with hot and dry, so meatballs should cooked on the stovetop in marinara sauce.
1 lb. ground beef
4 oz. whole milk ricotta cheese
1 cup Parmigiano-Reggiano cheese, grated
1 cup panko breadcrumbs
1 egg
2 cloves garlic, minced
2 shallots, minced
1 tablespoon olive oil
Salt and pepper
2 cups Fabio's Tomato Sauce (see recipe below)
Fresh parsley, chopped, for garnish
Extra-virgin olive oil, for drizzling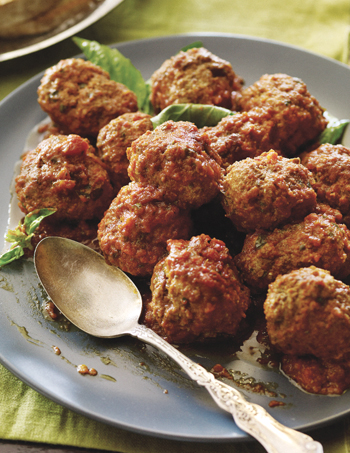 Place all ingredients except the tomato sauce, the parsley, and the extra-virgin olive oil in a medium-size bowl and mix thoroughly by hand until they are completely combined and the mixture is uniformly firm.
Coat your hands in olive oil, and form balls slightly bigger than a golf ball.
Heat the tomato sauce in a saucepan over medium heat, then drop the meatballs into the sauce and add enough water to allow the sauce to reduce and simmer but not so much that the sauce is totally liquid.
Cook for about 10 minutes on one side, then turn the meatballs over, add some more water, and cook for another 10 minutes, using a spoon to cover the meatballs with the sauce as they simmer.
Remove from heat and let rest for 5 minutes.
Serve with chopped parsley, salt and pepper, more Parmigiano-Reggiano, and a drizzle of extra-virgin olive oil, of course!
TIP: Don't waste expensive cuts of meat on meatballs! If prepared correctly, a cheaper cut of meat like beef shoulder/chuck, or even scraps will work perfectly.
Fabio's Tomato Sauce with Oil and Garlic (Pomarola)
Makes 2 cups
This is the simplest of sauces out there, so simple I don't even feel I want to call it cooking. But it's also delicious, so it does deserve the name of sauce.
6 cloves garlic
8 tbsp. extra-virgin olive oil
1 28-oz. can of whole plum tomatoes (packed only in tomato juice)
Salt and pepper
10 basil leaves
Smash the garlic with the back of a knife. Place the garlic and 5 tablespoons of olive oil in a saucepan and cook over medium heat until the garlic is golden brown. Add the tomatoes and generous pinches of salt and pepper.
Cook over medium-high heat until the sauce is thick and no longer watery, about 10–15 minutes. Add the remaining 3 tablespoons of olive oil and turn the heat to high. Stir, crushing the tomatoes with the back of a wooden spoon. Cook until the oil turns red, then turn off the heat and add the basil at the very end.
From Fabio's Italian Kitchen
by Fabio Viviani. Copyright ©2013 VF Legacy, LLC. Published by Hyperion in April 2013. Available wherever books are sold. All Rights Reserved. Photos by Matt Armendariz.
Lisa Dinsmore is a writer, web programmer and wine lover. She currently runs a website to share her passion: www.dailywinedispatch.com. She is also the Managing Editor of One for the Table.