The Perfect Sandwich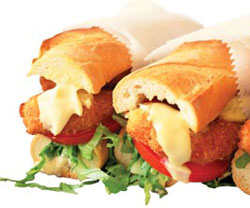 Ask any New Orleanian where to get the best po-boy in the city and almost every single one will tell you to go to a different place. Po-Boy restaurants are as much a part of personal identity as the neighborhood you grew up in – like a family heirloom, po-boy preference is often handed down from generation to generation. And while die-hard patrons of Parasol's refuse that anywhere else makes as good of a roast beef po-boy, those who are loyal to Mother's will tell you that their roast beef debris simply can't be beat. And who could forget Ye Olde College Inn – a New Orleans staple.
There is one important thing to remember about po-boys – allegiance aside, its pretty hard to find a bad po-boy anywhere in this city and its nearly impossible not to stumble upon an amazing one (or two or three). The very essence of the sandwich is heaven, and once you try one, the hoagies, subs, phillies and other sandwiches of the world will simply never compare.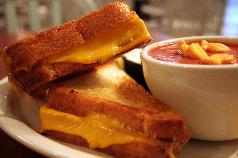 We're not sure who makes these decisions...
April is not only National Grilled Cheese Month, but also National Poetry Month. In an effort to celebrate both, The Pop Shop in Collingswood, New Jersey, is holding their 3rd Annual Cheesy Poetry Contest, which honors the best poem, ode or haiku about the joy of eating grilled cheese at their shop.
Since they make over 30 different types of grilled cheese, they are clearly a great place to find inspiration. The contest is open to all ages with two winners being selected – one adult and one child.
To enter, e-mail This email address is being protected from spambots. You need JavaScript enabled to view it. by April 24th. For full contest rules and more information about the joys of Grilled Cheese go to The Pop Shop.
Living in California, my only problem is how to collect the free lunch when I win.
by Rob Patronite & Robin Raisfeld
From New York Magazine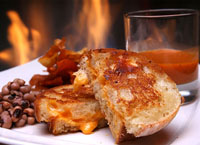 Not that anyone needs to be reminded, but April is National Grilled-Cheese Sandwich Month. In honor of this auspicious occasion, we bring you our picks for New York's best grilled cheese, from Keller-crafted high to Kraft-oozing low.
1. 'wichcraft - 397 Greenwich St., at Beach St.; 212-780-0577
Fontina with black-trumpet mushrooms and white-truffle fondue is such a grown-up grilled cheese, you should be carded at the door.
2. Eisenberg's Sandwich Shop - 174 Fifth Ave., nr. 22nd St.; 212-675-5096
This twenties coffee shop oozes so much Old New York charm that we'd happily tuck in to some Velveeta on a Ritz if that's what it was offering. The fact that the sandwiches — including the grilled cheese — are first-rate is a bonus.
3. Comfort Diner - 214 E. 45th St., nr. Second Ave.; 212-867-4555
They get ahead of themselves here, celebrating with a different grilled-cheese sandwich every day during the month of February. But you can still get a good classic any time of the year.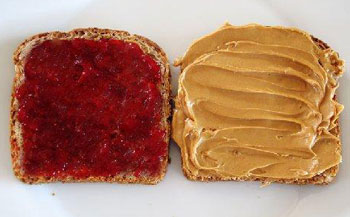 I have to admit – as much as I love trying new recipes – there are times when nothing quite compares to the satisfying goodness of a peanut butter and jelly sandwich. Some days there's just no time for chopping, grilling, or baking and a classic PB & J is the perfect solution.
According to Smuckers, no one really knows when or where this sandwich was first created. Bread and jelly have been around for ages, but peanut butter wasn't invented until 1890. This spreadable creation was a hit at the 1904 World's Fair in St. Louis, and during the 1920s and 1930s, commercial brands of peanut butter such as Peter Pan and Skippy were introduced. Around the same time, pre-sliced bread became common in the U.S. But there's no mention of peanut butter and jelly sandwiches before the 1940s.
The National Peanut Board reports that the average kid eats 1,500 peanut butter and jelly sandwiches before graduating from high school. They're not just for kids – I've often been on airline flights, when a waft of peanut butter drifts my way, and I turn to see some business exec pull out a Ziploc bag from a briefcase and enjoy a pb & j out – much to the envy of fellow passengers. You can also take comfort in knowing you're helping to save the planet!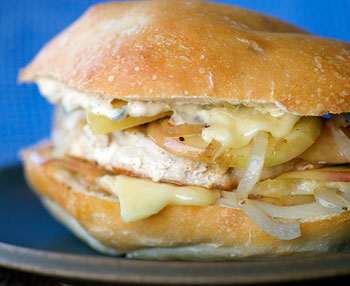 Do you regularly cook foods for people in your family that you yourself don't eat? I do. Turkey burgers.

I just don't get it. Jeff was raised on good old fashioned beef patties. Yet, given the choice today, he invariably chooses turkey over beef. I, in contrast, am a 100% grass-fed beef kind of gal. I prefer beef's tender texture and rich flavor. With the right beef, a burger is delicious even without condiments. (Not that I'm suggesting you do that.)

So when we have burgers, I usually make Jeff a turkey burger and me a hamburger. The last turkey burger I made for him, I topped with sauteed apples, Gruyere cheese, and sage mayo.

After the first bite, he said, "Oh, God, this is good."

I nodded, smiled, and took a big bite out of my hamburger. He took another bite. "Sue, seriously, you've gotta taste this turkey burger. It's awesome."

"But, I don't like turk--"

"Just one bite. Come on."