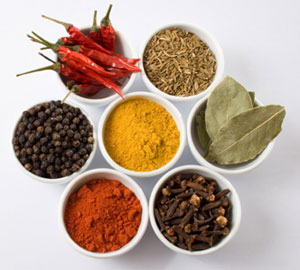 Spices and herbs as flavor agents came to me late in life. Growing up in a typical American household where the occasional Taco Night, or a meal out at the local Chinese restaurant was about as close as I got to anything resembling an exotic spice or herb. Even then the word 'spice' often referred to the La Victoria hot sauce we put on our tacos. The idea that there was a whole world of flavors out there, and even other cultures that cooked with them was a surprise to my palette.

Like cardamom for example. I first tasted the flowery, layered loveliness of this spice in Indian food on a trip to London at age 17. I have loved Indian food — and cardamom — ever since. Years later I ate a whole lot of Indian food when I was a film student at New York University. On East 6th Street in New York's East Village there is a block of cheap Indian restaurants where I could get multi-course meals for a few dollars. It was splendid. Living in New York, and traveling occasionally, I ate more and more non-European and non-American cuisines. I loved them all. The incredible flavors that emerged from these exotic dishes.

Authors Sara Engram and Katie Luber own an organic spice company, The Seasoned Palate. They know their spices and herbs. They recently wrote a book, 'The Spice Kitchen,' which I love and also reviewed. Now they have published a companion book of sorts: 'Spice Dreams: Flavored Ice Creams and Other Frozen Treats
' — all about herb and spice-infused ice creams and frozen desserts. Their methods combine all-natural ingredients with herbs and spices both fresh and dried to great success. Now back to that cardamom. The first ice cream I made from the book was Cardamom-Mint Ice Cream and, wow, was it amazing. That flowery, layered loveliness I referred to earlier in combination with the peppermint extract called for in the recipe: did I say 'wow' yet? Add to the experience the creamy coldness of the ice cream — full-on bliss. We had friends over and we devoured the entire 1 1/2 quarts.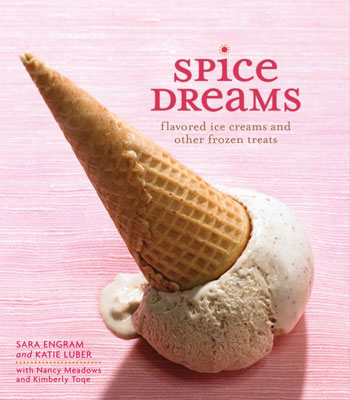 The book is divided into four sections: Ice Creams; Sorbets and Frozen Yogurts; Sandwiches, Sundaes, and Such; Syrups, Sauces, Toppings, and Other Goodies. I tried several recipes and all worked extremely well. The book is easy to follow and well structured. Household favorites are Dark Chocolate-Anise Ice Cream, Mango Sorbet with Cumin and Cinnamon, and the highly unusual Basil Ice Cream (eat this one with fresh berries!). We also liked the Pink Grapefruit-Tarragon Sorbet. Of the syrups and sauces I made a favorite was the Ancho-Lime Syrup that we poured over the Mango Sorbet with Cumin and Cinnamon. These frozen desserts couldn't be more fun to make and eat. What makes them so unusual is the savory-sweet flavor combinations: mango and cumin; grapefruit and tarragon; ancho chile and mango (a popular Latin American flavor combination — sweet fruit and hot chile).

Friendly and playful (they refer to their ice cream as 'spice cream') Engram and Luber not only add to the trend of combining herbs and spices with sweets, they take it to another level. They also encourage the reader to experiment and come up with their own combinations; to use the recipes in the book as templates. I am fairly new to making ice cream at home and I wish I hadn't waited so long. The experience of making and eating homemade ice cream is far superior to buying it commercially. Go get an ice cream maker if you don't have one. Buy this book and let the magic unfold. You won't be sorry.
Spice Dreams: Flavored Ice Creams and Other Frozen Treats
. Sara Engram and Katie Luber with Nancy Meadows and Kimberly Toqe. Andrews McMeel Publishing.
Charles G. Thompson is a Los Angeles-based freelance food writer, whose reviews and stories can be found at his blog 100 Miles, an exploration of local sustainibility.