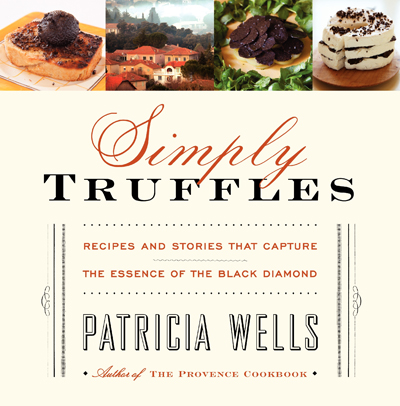 Simply Truffles: Recipes and Stories That Capture the Essence of the Black Diamond
, by the celebrated chef/author/teacher Patricia Wells is, well, simply marvelous.
It is fresh truffle season. Let me say up front that I have truffle butter in the freezer, truffle salts, truffle honey, truffle balsamic vinegar, black truffle oil, white truffle oil – including a vial of truffle concentrate that makes me weep whenever I open it – truffle powder for thickening sauces, truffle paste, truffles in jars, white truffles on order, and I nearly bought a bar stool that was described as having "truffle leather upholstery"...
Let me also say that I made a polite request to One For The Table for an unlimited truffle allowance so that I could try one or two...or twelve recipes. Did I get a response? Yes, I did. It said, "ha ha..." (Do you think the dot.dot.dot. means there might be room for negotiation?)
White truffles – like Italian operas – are grand, splendid and hit all the emotional high notes. Black truffles – like French operas – are subtler, more refined, and require the quality of the dish to assist in their discovery. The good new is that they are somewhat less expensive, which allows us to use them freely, in abundance, or 'avec nonchalance artistique' as they might say in the Perigord region in France where those elusive but heady black diamonds are most abundant.
Simply Truffles explores the truffle in depth – sometimes too deep – as in the answer to "What attracts an animal to a truffle in the first place?" Way TMI! But, if you love truffles (and can skip the paragraph on pheromone from pigs et al) this little book of recipes and lore will lead to a wondrous escape into a most rarified, delicious world. Think Colette!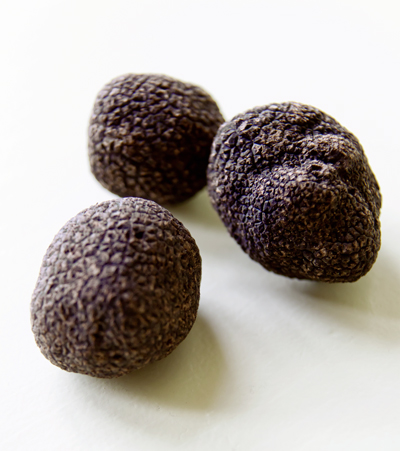 "If I can't have too many truffles, I'll do without them!"
According to Wells, feasting on a giant truffle omelet opulently studded with fragrant, fresh black truffles, paired with sips of local Rhone wine is bliss. "To this day, the truffle omelet along with truffled scrambled eggs prepared with ultra fresh farm eggs and a healthy dose of butter remain two of the ten best ways to appreciate the talents of the mysterious mushroom."
The eco-friendly, parasitic truffle seems to all that adore it, truly wild and untamed – a daunting thought as one starts a recipe. But, so many of the recipes in Simply Truffles are in fact simple and sure fire. Wells notes that the addition of truffle products such as truffle butter (I got that) and truffle salt (I got that!) help bring out the flavor of the fresh truffle, and that all the recipes in her book can stand on their own without truffles. Lucky for us, winter season begins in early December.
I personally am attracted to the French concoctions in her book, as I have tried the usual pasta, polenta, risotto recipes that are favored for the Italian white truffle. So, imagine my pleasure at finding Zucchini Blossoms Stuffed with Goat Cheese and Summer Truffles, Truffled Vacherin Du Mont D'Or, Chicken Pot-au-Feu with Truffles, Six-Minute Steamed Salmon with Shellfish Cream and Truffles, and Truffled Croque Monsieur.
Recipe from SIMPLY TRUFFLES, reprinted with permission from William Morrow Copyright © 2011 by Patricia Wells. Photos by Jeff Kauck.
TRUFFLED CROQUE MONSIEUR
This "everyday" French sandwich with truffles was popularized by chef Michel Rostang and remains a part of his spectacular truffle menus each winter in Paris. I also sampled a more rustic—and equally spectacular—version of this opener at one of my favorite Paris restaurants, Bistrot Paul Bert, where owner Bertrand Auboyneau always surprises us with new and unexpected treats.
8 servings
Equipment: A small jar with a lid; a mandoline or a very sharp knife
1 fresh black truffle (about 1 ounce; 30 g), cleaned
8 thin slices Brioche
1 tablespoon (15 g) Truffle Butter, at room temperature
1 tablespoon (15 g) Clarified Butter (recipe follows)
1 teaspoon extra-virgin olive oil
1. With a vegetable peeler, peel the truffle. Mince the truffle peelings, place them in the jar, and tighten the lid. Reserve the peelings for another use. With the mandoline or very sharp knife, cut the truffle into very thin slices. The truffle should yield about 20 slices.
2. Butter one side of each slice of brioche with the truffle butter. Arrange 4 slices of brioche, buttered side up, side by side on a platter. Arrange 4 or 5 truffle slices side by side on top of each slice of brioche. Place another slice of buttered brioche, buttered side down, on top of each layer of truffles, to make a sandwich. Wrap each sandwich tightly in plastic wrap. Refrigerate for at least 6 hours and up to 24 hours.
3. At serving time, in a large skillet, melt the clarified butter and oil over medium heat. Add the sandwiches, in batches if necessary, and brown the bread on both sides until golden, 1 to 2 minutes per side. Cut each croque monsieur in half. Serve immediately.
CLARIFIED BUTTER
What is clarified butter? And why bother? Clarified butter is butter that has the milk solids and water removed. This gives it a much higher smoking point than regular butter and lets you cook at a higher temperature without burning. Without the milk solids, clarified butter can also be kept fresher longer than non-clarified butter. I use it, often in conjunction with a touch of oil, when cooking foods that I want to sauté at a high heat without burning, such as the Truffled Croque Monsieur.
Makes about 6 tablespoons (3 ounces; 90 g)

Equipment: A double boiler or a microwave oven; a fine-mesh sieve; dampened cheesecloth
8 tablespoons (4 ounces; 120 g) unsalted butter
1. If you are using the double boiler, cut the butter into small pieces and place them in the top of a double boiler set over simmering water. When the butter has melted, raise the heat to moderate and let the butter simmer until it stops crackling, an indication that the butter is beginning to "fry." Remove from the heat and let the residue settle to the bottom of the pan: there should be a layer of milk solids on the bottom and a layer of foam on top.
If you are using the microwave, place the butter in a 1 1/2-quart (1.5 l) microwave-safe dish. (Do not use a smaller container or the butter will splatter all over the oven.) Cover loosely with paper towels. Microwave at full power for 2 ½ minutes. Remove from the oven and let the residue settle to the bottom of the dish: there should be a layer of milk solids on the bottom and a layer of foam on top.
2. With a spoon, skim off and discard the top layer of foam. Line the sieve with the dampened cheesecloth, and slowly strain the melted butter into a container; discard the milky solids that remain. (Store in an airtight container in the refrigerator for up to 1 month.)
Wine Suggestion: A medium-bodied white wine is in order here. While one could splurge on Château de Beaucastel's stunning Châteauneuf-du-Pape, we are never disappointed to sip the same winemaker's simple white Perrin & Fils Côtes-du-Rhône Réserve Blanc, a crisp, finely acidic, and refreshing blend of Viognier, Roussanne, and Grenache Blanc.
Nancy Ellison, award winning photojournalist and celebrity portraitist, has authored fourteen books of photographs, including "Romeo and Juliet: The Love Story in Dance" and "Starlet". Her latest book is "Wagner's Eternal Ring."