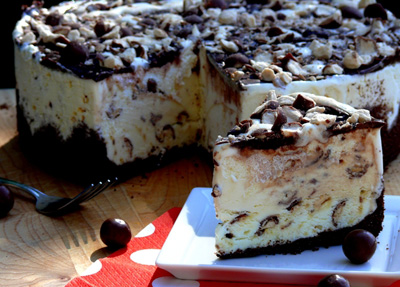 Recipe Created by Noble Pig | Serves: 12
Ingredients:
Crust:
1-2/3 cups crushed chocolate graham crackers
1/4 cup sugar
4 Tablespoons unsalted butter, melted and slightly cooled
Filling:
1 (12 ounce) carton Whoppers or malted milk balls
2 quarts best quality vanilla ice cream, softened
1/2 cup malted milk powder
Topping:
7 ounces semi-sweet chocolate chips
1/2 cup heavy cream
Directions:
For crust, preheat oven to 350 degrees F. Crush graham crackers in a food processor until finely ground. Add sugar and butter and pulse until fully combined. Press the mixture into the bottom and up the sides of a 10" springform pan. The crumb mixture will be very dry. Bake for 8-10 minutes or until firm and set. Let cool completely.
Place Whoppers into a ziplock bag. Seal the bag and crush the candies with a mallet or a rolling pin. Put to the side a 1/2 cup of crushed Whoppers to be used as part of the topping. In a large bowl, stir ice cream , malted milk powder and remaining crushed Whoppers. Spread the ice cream mixture evenly over the cooled crust, making the top smooth. Freeze for one hour.
To make the topping, place heavy cream in a small saucepan over medium-high heat and bring to a boil. Pour over chocolate chips and let sit for 1 minute. Whisk chocolate until very smooth and pour over the partially frozen ice cream cake. Sprinkle with reserved crushed Whoppers. Freeze until firm, another 6 hours or overnight.
Remove cake from freezer and let sit for 5 minutes. Loosen pan sides and run a knife around the inside of pan. Remove cake pan, sides and bottom and place on a serving plate. Use a sharp knife to cut into wedges.
- Recipe courtesy of Cathy Pollak