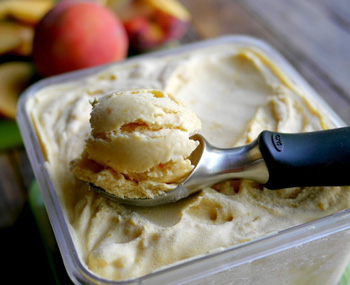 Serves: 8
Ingredients:
1-1/2 pounds fresh peaches
1/2 cup sugar, divided
1/4 cup light corn syrup
5 large egg yolks
1-3/4 cups heavy cream, divided
3/4 cup whole milk
3/4 teaspoon ground cinnamon
1 teaspoon pure vanilla extract
Directions:
Bring a large pot of water to a boil. Using a knife, score the bottom of each peach with an "x". Place in the boiling water for 45 seconds and remove. Once cool enough to handle, peel the skin and finely chop peaches.
In a large saucepan over medium heat, add the peaches, 1/4 cup of the sugar and corn syrup. Heat the peaches until warm and the sugar has been incorporated, about 5 minutes. Pour into a large bowl.
In a medium sized bowl, whisk the egg yolks with the remaining 1/4 cup sugar. In the same saucepan you cooked the peaches, add 1-1/4 cups of the cream, milk and cinnamon. Heat gradually, bringing it to a simmer, never letting it boil. Slowly whisk this mixture into the egg yolks, whisking constantly. Return this mixture to the saucepan and heat over low heat until it is thick-enough to coat the back of a wooden spoon and leave streaks in the pan. About 4-6 minutes. Never boil.
Pour mixture through a fine-mesh sieve into the peach mixture. Transfer 3/4 of this mixture t a blender of food processor and puree until smooth. Pour the puree back into the peach mixture. Add vanilla and remaining 1/2 cup of cream, whisk to blend. Refrigerate until cold, 6 hours or preferably overnight.
Transfer the cold custard to an ice cream maker and freeze according to manufacture's directions. Transfer to a freezer-safe container and freeze until firm.
- Recipe Created by Cathy Pollak for NoblePig.com