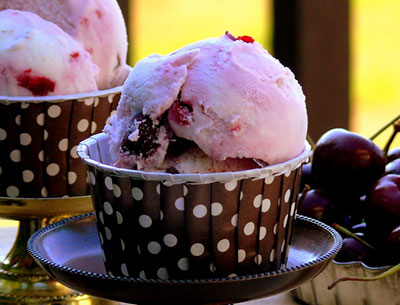 Coconut-Cherry-Chocolate Chip Ice Cream
Recipe from: Created by Noble Pig | Serves: Slightly more than a quart.
Ingredients
1-1/2 cups whole cherries, pitted
1/4 cup sugar
juice of half a lemon
2 cups heavy cream
1-3/4 cups (or 14 oz can) creme of coconut
3/4 cup whole milk
3/4 cup roughly chopped chocolate chips
Directions
Several hours prior to churning the ice cream, I combined the heavy cream, creme of coconut and milk in a large container, stirring well. I placed it in the refrigerator to get nice and cold. It's preferable if this container has a pour spout. I also made the cherry mixture so it could cool as well. Place the cherries, sugar and lemon juice in a medium sized sauce pan over med-low heat. Cook, breaking up the cherries with a wooden spoon as they soften; about 10 minutes. Remove from hot pan and let cool. Place them in the fridge when they have cooled down enough.
When all ingredients are cold, start ice cream churning and pour cream-coconut mixture into ice cream maker through the pour spout. This is assuming you have that type of ice cream maker. If you don't, that's okay too. Once ice cream is frozen, add cherry mixture and chocolate chips. Churn just enough to combine, about 1 minute.
Place ice cream in the freezer to harden further. About four hours or overnight.
- Recipe courtesy of Cathy Pollak