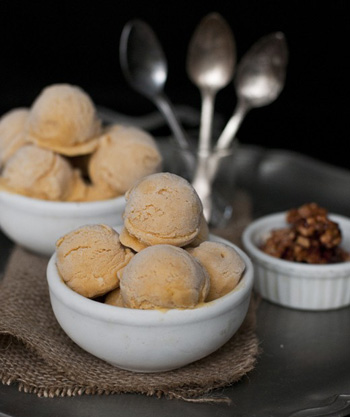 Recipe from here
yield: 1 quart or 36 2″ balls of ice cream
Ingredients:
12 ounces | 375 ml | 1 1/2 cups whole, organic milk
8 ounces | 250 ml | 1 cup organic, heavy cream
3 3/8 ounces | 95 grams | 1/3 cup plus 2 tablespoons maple sugar
1/2 teaspoon ground cinnamon
1 cinnamon stick
1/4 teaspoon nutmeg
1/4 teaspoon Celtic sea salt
5 large egg yolks
2 ounces | 60 grams | 1/4 cup muscovado sugar
1 teaspoon vanilla extract
1 tablespoon Markers Mark Bourbon
6 1/2 ounces | 180 grams | 3/4 cup organic, canned pumpkin puree
Instructions:
• in a small bowl, whisk the egg yolks and set aside.
• in a heavy duty saucepan, mix milk, cream, maple sugar, ground cinnamon, cinnamon stick, nutmeg, and salt.
• warm the mixture until warm and little bubbles form around the edge of the pan.
• in 1/4 cup batches, ladle half of the warm milk mixture into the egg yolks. whisking the whole time, after each addition of milk to avoid "cooking the egg yolks". pour egg/milk mixture back into original saucepan(with half of the milk mixture that was not combined with the eggs) and cook over low heat.
• using a heat proof spatula, constantly stir custard mixture until it coats the back of a spatula (if you run your finger over the back of the spatula and a solid line remains from your finger, it's ready) or until an instant-read thermometer reads 160- 170 degrees.
• place a glass bowl inside a larger glass bowl filled with ice (you are creating an ice bath). place a strainer over the smaller glass bowl.
• pour custard mixture through the strainer. remove strainer and mix in the muscovado sugar. stir completely and let mixture cool.
• remove bowl from water bath and cover with plastic wrap. chill in fridge overnight.
• whisk in vanilla and bourbon (optional). place strainer over bowl of custard and press pumpkin puree throught the strainer. mix thoroughly.
• freeze custard in your ice cream maker (about 30 minutes), according the manufactureres instructions.
• place ice cream into a freezer safe container and freeze for at least 3 – 4 hours before eating.
note: after 1 1/2 hours, I scooped my ice cream into 1 1/2″ balls and froze on a rimmed baking sheet. when completely frozen I stored in a freezer safe container.
- Recipe courtesy of Susan Salzman