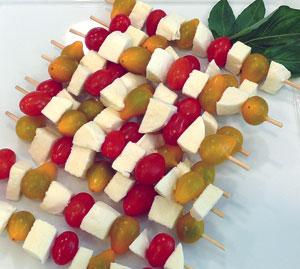 Adapted from Cuisine at Home

4 cups fresh spinach
2 cups fresh basil leaves
1/2 cup Parmesan cheese, grated
4 Tablespoons pine nuts, toasted
2 Tablespoons white wine vinegar
1 teaspoon kosher salt
2/3 cup olive oil
Bamboo skewers trimmed to 6" lengths or whatever size needed
Grape or cherry tomatoes (about 2 cups)
Fresh mozzarella, cubed (about 8 oz) --if fresh mozzarella isn't available, use cubes of feta or Havarti instead

Blanch spinach and basil in boiling water just until wilted, about 30 seconds. Transfer to a bowl of ice water to stop the cooking; drain the leaves well and blot dry with paper towels.

Toast pine nuts in a nonstick skillet over med-high heat, until fragrant.

Blend blanched spinach and basil with Parmesan cheese, pine nuts, white wine vinegar and kosher salt in a food processor.
Drizzle in oil while machine is running; set pesto aside, preferably in refrigerator.

Thread skewers with tomatoes and cheese cubes. Serve skewers with pesto for dipping.
- Recipe courtesy of Cathy Pollak