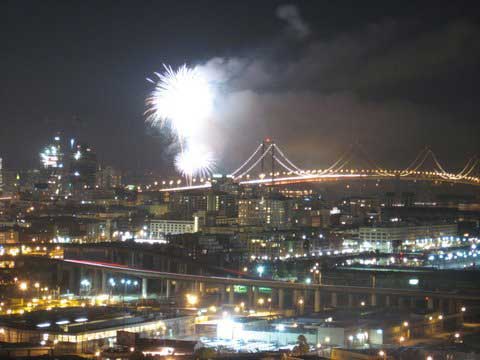 As each time zone in the world welcomed the new millennium, twelve people in a little flat in San Francisco celebrated with a unique dining experience.

The New Year's Eve feast began at 4pm Pacific Time with long-life noodles and caviar tarts, as Sonja, her husband Dave and their guests joined a few billion people who were still partying in Asia and Russia.

Then, every hour on the hour, wherever it was midnight, they served assorted bite-sized cuisine indigenous to countries where the 21st century had just begun.

Among her many home-made dishes, Sonja prepared palm trees made of hearts of palm and avocado slices with chutney mustard dressing for midnight in the Caribbean.

When the millennium reached the east coast, Maryland crab cakes were served, followed an hour later by meat loaf and mashed potatoes – staples in the Midwest. And to ring in the New Year in San Francisco, Sonja brought out cordial glasses filled with Rice-A-Roni.

Then, the party moved to the roof, high atop Potrero Hill, where the group watched the fireworks display over the Bay.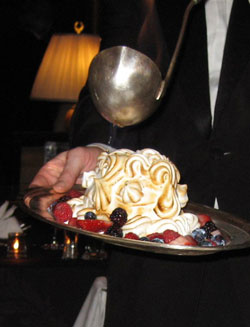 After the show, everyone headed back inside. And when the clock struck twelve in Juneau, Sonja served Baked Alaska.

Guests who stayed overnight were treated to a breakfast of hot Kona coffee, macadamia sticky buns and fresh pineapple – a great way to include Hawaii in the Y2K celebration.

The party was such a success that everyone wanted to do it again. But no one wanted to wait a thousand years.
And so began a tradition that is known today as the Party of the Year. It incorporates the same basic concept as the original feast, but with a few twists.

Instead of dishes from different parts of the world, the menu offers a look back at the calendar year, a 12-course meal featuring a parade of creative and delicious samplings.

Two parts of the New Year's Eve millennium celebration have been preserved: watching the midnight fireworks from the rooftop and ending the meal with Baked Alaska. Make that three parts. All the guests always ask Sonja and Dave to do it again next year.
SAN FRANCISCO SONJA'S
PARTY OF THE YEAR

MENU

January

Winter Comfort Food
Mini crab cakes with cucumber sorbet
Butternut squash soup en croûte served in espresso cups

Chinese New Year
Shanghai-style prawns in Chinese soup spoons


February

Valentine's Day All-Heart Salad
Hearts of artichoke, palm, celery, and romaine, with lime cream dressing

March

"March of the Penguins"
Black olive and cream cheese penguins with carrot features
Little Penguin Chardonnay

St. Patrick's Day
Corned beef and cabbage packets, tied with chives

April

Easter/Passover
Manischewitz-glazed ham with potato kugel

May

Mother's Day Brunch
Crust-less mini quiches with bacon pirouettes and tangerine cups

Kentucky Derby
Home-baked horseshoe pretzels
Mint juleps

June

Summer Vacation "Snacks on a Plane"
Assorted airline peanuts, processed cheese and crackers
Pushcart stocked with juices, soft drinks and mini liquor bottles

July

Independence Day Barbecue
Bite-sized hamburgers and smoky sausages on little buns

August

French Country Picnic
Petite Niçoise salads with quail eggs
Watermelon sorbet with mini chocolate chip "seeds"

September

New Mexico Chile Harvest
Spicy chicken and fennel in parchment bundles
Margarita sorbet

October

Pumpkin risotto cakes

November

Wild Turkey turkey with autumn fruit chutney


December

Ebony and Ivory Baked Alaska

Thank you to Sonja and Dave for their contributions to this story.

Robert Keats is a screenwriter and humorist.