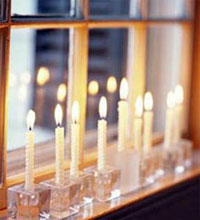 It's not easy being Jewish during the Christmas season, especially if you're a kid. Chanukah is great, don't get me wrong. Presents for eight nights in a row. Lighting the candles and watching them flicker in the menorah until they gradually fade away. And I'm a big fan of the latke. But compared to Christmas? Really?

Imagine, then, what my son Luke had to contend with, growing up Jewish and having an older brother who got to celebrate Chanukah and Christmas while he celebrated only the Festival of Lights. And it was all my fault. I married a non-Jew, had a son with him and got divorced. Then I met my true love (Luke's father) and created our modern nuclear family. Three Jews and a mixed-breed (sorry, Craig), who marched in a Christmas pageant at his father's church wearing the robe of a king – the same year he was deep in preparation for his bar mitzvah. Holiday time in our household was always a bit fraught.

Every year Craig spent the week between Christmas and New Years at his father's house, two towns away. It was only 10 minutes by car but it felt much, much further – to me, especially. We talked almost every day (until he hit adolescence), and the big call was always the rundown, sometime on Christmas day, of his haul. Now 22, Craig is not, nor has he ever been, particularly materialistic. In fact, I find it impossible to shop for him because he so rarely wants anything. But children love Christmas and it has always been his favorite holiday – though he does love the cheesecake I make every year on Rosh Hashanah and brags about it to all his friends.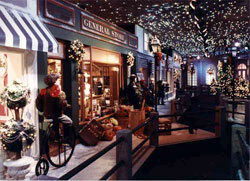 I grew up with a severe case of Christmas envy. I found everything about the holiday beautiful. Throughout my childhood Jordan Marsh, one of Boston's erstwhile retail icons, used to erect "The Enchanted Village" in its downtown store. It was a recreation of a turn-of-the (20th) century village on Christmas Eve, with storefronts, brownstones, living room displays, fake snow and animated characters, and to me it was pure magic. My mother took my sister and me when we were young; in high school I went with a friend. It was the closest I came to the kind of Christmas I knew I would celebrate – if I ever celebrated Christmas. With Craig spending the holiday at his dad's house, I spent much of Christmas Eve and Christmas day visualizing my own son living out my Enchanted Village fantasies. It only added to the hollow feelings the holiday already held.

Once Luke was old enough to start wondering – hey, how come Craig gets Chanukah and Christmas and I don't? or asking, after spending a few years enjoying a friendly glass of nog and exchange of gifts by my ex-husband's always beautifully decorated tree (kudos to his wife), 'can we get a tree this year?' – it fell to my husband and me to create a Christmas tradition for our nuclear-family-minus-one so Luke wouldn't feel like his brother was the only one to hit the winter holiday jackpot. Escaping to Florida like so many of our people do was not an option because we didn't do family vacations without Craig. And neither of us had parents there anyway.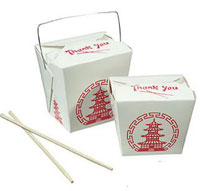 Which left the only other possibility for Jewish people on Christmas day – movies and Chinese food. Which is special in its own way. I always love going to the movies. But on Christmas, I feel a special comfort all snuggled in my seat. I am among my people. We play a little game when we get to the theatre: does he/she look Jewish? I know, it sounds very un-P.C., but we have to make it feel different than a regular day at the movies. Not everybody does look Jewish, and for those who obviously are not, I wonder WHY they are here, when they should be home around the tree. Sometimes it makes me sad. I hope they are having as much fun as we are.

The culinary choice is obvious because aside from the fancy restaurants serving the formal, over-priced Christmas dinners, there are very few restaurants open. But there's some history there, too. Jews and Chinese food go back a long way. So walking into a Chinese restaurant and finding it full of Jewish families, especially in my neighborhood, is less of an event. But it is part of our Christmas tradition.

For the majority of families in the U.S. Christmas planning involves shopping, decorating, wrapping and cooking. In our house, three of us start scanning movie ads and reviews in late fall and debate the relative merits of local Chinese restaurants. The fourth looks on with bemused detachment – perhaps a touch of pity? – then goes off to be with his 'other family.' But we have come to really enjoy our Christmas day. Some years my mother joins us. Others my husband's sister and her family come up from New York. Sometimes we meet my sister and niece at the movie. Or all of the above.

Luke is a freshman in college this year, so he hasn't been part of the annual movie scan yet. My husband and I are leaning heavily toward "The Curious Case of Benjamin Button." I hope we won't encounter any holiday tension…

Andrea Pyenson is a freelance food writer and editor who lives in a Boston suburb with her husband and, more often than not, her two sons who are not quite out of the nest .