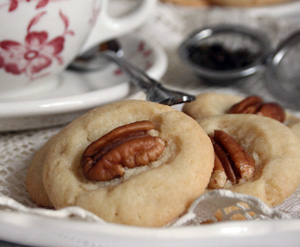 Butter season. It's here. The inside of the door on my freezer holds several pounds of Land O Lakes butter. Many more of the 1-pound boxes are stacked on the shelves in my refrigerator. My holiday baking has begun.
Baking Christmas cookies is one of my favorite things in the whole world. There's nothing that puts me at peace during this crazy busy time of year like getting into the kitchen to do some baking while Christmas music plays in the background. Maybe it's because I think of the many years my mom and I baked holiday cookies together. When I make the thumbprint cookies, a family favorite for generations, I can almost hear my mom tell me to roll the little balls of cookie dough no larger than a walnut. Now I use my small portion scooper and each cookie is the exact same size. She would have loved that little tool. We would stay up until all hours of the darkness to bake hundreds of special cookies that had become a tradition through the years.
I stll make many of the same cookies my mom and I created each holiday season. But, each year I find new ones to try. I have a stack of clipped cookie recipes that I flip through each November, pulling out a couple that will become newbies on the cookie tray. Some of those become keepers and are tucked into the "Keep Forever" file. Others are half-heartedly consumed and are never found on our holiday Christmas cookie platter again.
Praline Butter Cookies are very likely going to make it to the "Keep Forever" file. It's a recipe I've eyed for several years (since 1989, would you believe?), but never pulled it out of the stack to try. It would mean a trip to the liquor store to find praline liqueur. A couple of weeks ago, as my husband and I drove through Brainerd, we stopped at Westside Liquor on Highway 371. I found at least a few brands of praline liqueur to choose from. I chose a bottle labeled Praline New Orleans-Style Pecan Liqueur. The fragrance that wafts from the open bottle is enough to make me swoon.
A couple of tablespoons of Praline liqueur in these rich and buttery cookies intensifies the nutty pecan flavor that begins with a big pecan half stuck right in the middle of each cookie. My husband declares this cookie a winner. They will be taste-tested by a few other family members before the recipe can be awarded a place in the "Keep Forever" file.
And, by the way, my one and only tip to make your holiday sweets the best ones ever: USE BUTTER. No margarine, please. Butter delivers flavor, tenderness, deliciousness. Butter. Only butter. And don't worry where all that butter may wind up. After all, it's Christmas. I'm pretty sure I've heard that Christmas calories don't count.
Praline Butter Cookies
1 cup butter, room temperature
1 cup sugar
2 egg yolks
1/2 teaspoon vanilla extract
2 tablespoons praline liqueur
2 cups all-purpose flour
1 teaspoon baking powder
1/4 teaspoon salt
1 cup pecan halves
Cream butter. Gradually add sugar, beating well at medium speed of an electric mixer. Add egg yolks, one at a time, beating after each addition. Stir in vanilla and praline liqueur.
Combine flour, baking powder and salt. Gradually add to creamed mixture, mixing well. Shape dough into 1-inch balls (I used a #100 portion scooper). Place 2 inches apart on ungreased cookie sheets. (I lined my cookie sheets with parchment paper.) Press a pecan half into center of each cookie. Bake at 300 degrees for 20 minutes or until lightly browned. Cool on wire racks. I got 5 dozen cookies using the portion scooper.
Sue Doeden is a popular cooking instructor, food writer and integrative nutrition health coach. She is the host of Good Food, Good Life 365 on Lakeland Public Television. Her own hives full of hardworking bees and her love of honey led to the creation of her recently published cookbook, Homemade with Honey.