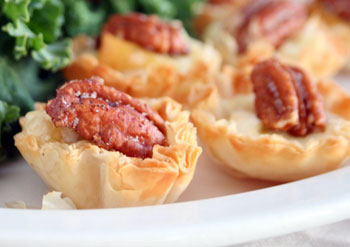 Crunchy. Flaky. Gooey. Sweet. Tart. Salty. Delicious. And, as if that weren't enough to get you completely hooked, I must add one more thing. Super easy.
When I spotted frozen mini fillo shells in the freezer case at the grocery store last week, visions of melted Brie studded with sweet and tart apple chunks topped with spicy pecans all in a light, flaky cup ran through my head.
Baked Stuffed Brie was still fresh in my mind, all creamy and gooey and chewy with apples and spice and dried fruit. That recipe came from the new cookbook written by Carmela Hobbins, Celebrations with Carmela's Cucina
Having a few ingredients on hand during the holidays that allow you to create a delicious snack or appetizer to serve with cocktails, wine or holiday punch helps a busy cook remain joyful amidst all the hustle and bustle and stress of the season.
You'll discover Brie cheese is covered with a paper-thin, white film. That's mold. It's completely edible. A friend told me yesterday she thinks the mold on Brie tastes like dirty socks. I prefer to call the flavor "earthy." I haven't developed an appreciation for the earthiness. I take my cheese plane to very cold Brie cheese and slice off the mold before eating.
Sweet, Salty and Spicy Pecans are an adaptation of a recipe I got from a friend last year when she brought the nuts to a holiday party. Penzey's Black and Red Spice, a blend of ground black Tellicherry peppercorns and cayenne adds kick to the sweet, slightly caramelized pecans. Sea salt rounds out the flavors. These pecans are a wonderful surprise in a salad of fresh greens. They are a marvelous addition to a cheese and fruit platter. Don't be afraid to set out a bowl of these pecans for guests to enjoy with cocktails or holiday punch. They are handy to have on hand all during the holiday season.
With some Brie, apples and Sweet, Salty and Spicy Pecans on hand during this season of celebrations, your days will be merry and bright.
Sweet, Salty and Spicy Baked Brie Cups
4 ounces Brie cheese, well chilled
1 (1.9-ounce) box frozen mini fillo shells
1/2 an apple, sliced and cut into small chunks (I used honeycrisp)
15 Sweet, Salty and Spicy Pecans (recipe below)
Preheat oven to 350°F. Thaw fillo shells at room temperature for 10 minutes. Arrange them on a baking sheet.
Using a cheese plane or a cheese knife, remove white film from Brie and discard. Cut cheese into 30 chunks.
Place a piece of Brie in bottom of each shell. Top with an apple chunk. Place another piece of cheese over apple. Arrange a pecan half over the top of each shell.
Bake for 10 to 15 minutes in preheated 350-degree oven, until cheese melts and just begins to bubble. Remove from oven. Serve warm. Makes 15.
Sweet, Salty and Spicy Pecans
3 cups pecan halves
1 tablespoon canola oil
1/4 cup (heaping) sugar
1 1/2 teaspoons fine sea salt
1 teaspoon Penzey's Black and Red Spice
Preheat oven to 350°F. Spread the pecans on a sheet pan and roast until fragrant, 8 to 10 minutes. Stir a couple of times so that they color evenly. Heat the oil in a skillet over medium heat, add the nuts and stir to coat. Sprinkle with the sugar and salt and cook, stirring constantly, over medium heat, until the sugar melts and starts to caramelize and coat the nuts, about 5 minutes. Turn off the heat but keep stirring until the nuts begin to cook, then toss with Black and Red Spice and turn them onto a plate to finish cooling.
Makes 3 cups. Store completely cooled pecans in tightly sealed jar or tin.
Sue Doeden is a popular cooking instructor, food writer and integrative nutrition health coach. She is the host of Good Food, Good Life 365 on Lakeland Public Television. Her own hives full of hardworking bees and her love of honey led to the creation of her recently published cookbook, Homemade with Honey.