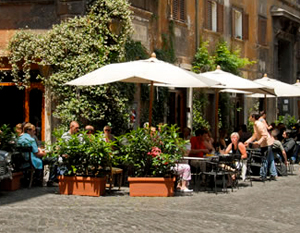 I used to have a fear of doing things on my own. This included going shopping, going to the movies, and going to sporting events. Now walking into a coffee shop in Rome, at age 22, I am completely void of that fear, and I am as thankful as ever for overcoming it.
I have just walked into Caffe Della Pace, placed behind one of the most beautiful piazzas in all of Rome—Piazza Navona. With the option of sitting outside or in, I choose in, as the air on this December morning is brisk. I am told that I not only have the choice to sit inside or outside, but that I can pick any table in the entire cafe—which is composed of two large rooms. The front room, which I have just walked into, is full, and so I venture into the back room. 'This is perfect,' I think to myself. 'No one is back here.' I spot a table on a lower level of the room next to a backdoor. The table has three seats, but I don't mind because there is a statue placed to the side of the table that can keep me company.
The waitress follows me as I sit down and hands me a menu. Quickly, I say, "Pronto," which means "I am ready," in Italian "Un cappuccino e cornetta con cioccolato per favore," I say, which translates to "A cappuccino and a chocolate croissant, please." She smiles at me and says, "Si," before walking away with my menu.
Sitting patiently, I stare out the window of the door that I have sat adjacent to. I watch the people as they walk by. I can hear three different languages, but I cannot make out any of them. I see a couple walk by, lost. I listen and watch as they seemingly ask for directions in what sounds like Dutch. I see them smile as the men, that they have asked, point them in the right direction.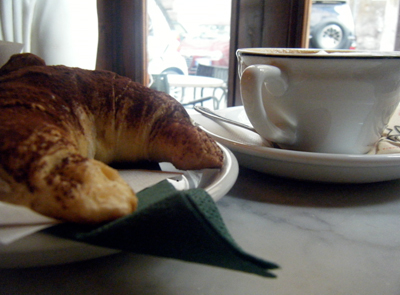 I turn back to the restaurant, and I think how lovely a find this gem is before even receiving my Italian-style breakfast. Recommended to me, actually, by a restaurant I visited once in New York that goes by Via Della Pace, I am certainly far from disappointed.
Soon, a different waitress arrives at my table with a foamy cappuccino and a wonderfully delectably dusted chocolate croissant. The two look as if they have been dressed to meet at the altar—the croissant in his tuxedo of chocolate and the cappuccino in a white mug laced with a bit of black—the foam now like the trail of a dress.
I take a spoonful of that wonderful foam and follow it with a bite of the croissant marrying the two with my vow to love each of them forever and ever, till death—or final bite—do us part.
As I do take my final sips of cappuccino and my last bite of croissant, I take another look around and admire the room that is completely empty of other customers. I can hear the chatter of the front full room, and the echo of coffee mugs being placed on little plates with silver spoons, and I can smell the baker making his magic in the back.
This coffee shop, Caffe Della Pace, placed perfectly on Via Della Pace matches the English translation to a T, "The Caffe of Peace," and it truly is, one of the most peaceful breakfasts I could have ever asked for.
Caffe Della Pace
Via della Pace, 5
00186 Rome, Italy
066 861216
Libby Segal is a recent graduate of the University of Rhode Island where she studied Communication Studies and Film Media. She has recently moved to Italy for eight months in to teach English as a second language. While in Italy, she keeps a blog chronicling her cups of cappuccino. <http://illtakeacappuccino.blogspot.com