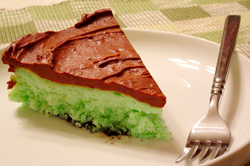 A perfect St. Patrick's Day Treat
Crust:
1 1/2 cups chocolate cookie crumbs (I use 12 Oreo cookies)
1/4 cup butter, melted

Filling:
2 (8-ounce) packages cream cheese, room temperature
1 cup sugar
1/4 teaspoon salt
3 large eggs, room temperature
1/2 cup heavy whipping cream
1/4 cup green creme de menthe
2 tablespoons white creme de cocoa

Topping:
1 (4-ounce) bar sweet baking chocolate or 3/4 cup semisweet chocolate chips
Whipped cream for garnish, optional

Preheat oven to 350°F.
To make the crust, first butter a 9-inch springform pan. (The one I use actually has an imprint on the bottom that tells me it's 8 1/2 inches. The sides are almost 3 inches high. When I bake the cheesecake, it rises up to the top.) Wrap the bottom of the pan in a double layer of aluminum foil or a single layer of heavy duty aluminum foil. Set aside.
Stir the cookie crumbs and melted butter together in a medium bowl until all the crumbs are uniformly moist. Turn the buttery crumbs into the prepared pan. Press crumbs evenly into bottom of pan. (At this point, the crust can be covered and frozen for up to 2 months.) Bake the crust for 10 minutes in preheated oven.
Remove from oven and reduce temperature to 325°F. Set the crust aside to cool on a rack while you prepare filling. I sometimes place the pan in the freezer for a quick chill.
In a large mixing bowl, beat the cream cheese at medium speed of an electric mixer until soft and creamy, about 4 minutes. (I use my stand mixer with the paddle attachment. If you use your electric hand mixer, be prepared to stand with mixer in hand for several minutes.) With the mixer running, add the sugar and salt and beat for another 4 minutes, until the mixture is velvety smooth. Add the eggs, one at a time, beating for 1 minute after each addition. Reduce the mixer speed to low and blend in the whipping cream, creme de menthe and creme de cocoa.
Use a rubber spatula to scrape the batter into the pan. Bake the cheesecake for about an hour or maybe a bit more. The top should be lightly browned and will have risen to the top of the pan or maybe even a little higher than the rim of the pan. It will still seem a little jiggly in the middle.
Transfer the cheesecake in its pan to a cooling rack. Make topping by melting chocolate over very low heat in a heavy saucepan or in a bowl in the microwave on 50% power, stirring often. Allow the chocolate to cool for 5 minutes. Stir in sour cream. Spread chocolate topping on slightly cooled cheescake. Cool completely, then refrigerate several hours. Flavors will develop and improve when refrigerated overnight.
At serving time, run a blunt-tipped knife around inside edge of pan. Remove sides of pan. Cut into wedges to serve. Garnish with freshly whipped cream, if desired. Makes 8 to 10 servings.
Courtesy of Sue Doeden