I love trying different recipes that substitute matzo for flour. It's always interesting to see how they turn out. As you can see, this one turned out well and it tastes good too. I'm kind of a sucker for anything with apples and nuts. The matzo in place of the flour is what gives the cake its light texture. Make sure to squeeze as much water as you can from the shredded apples to keep the cake airy.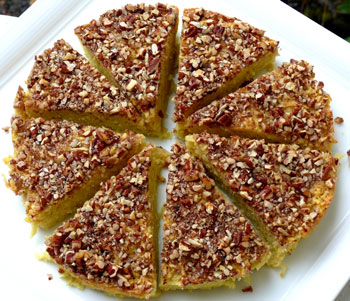 Adapted from Everyday Food
Serves 6
Nonstick Spray
3 large eggs, separated, plus 3 large yolks
2/3 cup sugar
1/2 teaspoon coarse salt
3 cups grated Granny Smith apples (from 6 peeled apples), squeezed dry
1 cup matzo meal (make your own by processing plain matzo pieces in food processor until finely ground)
2 teaspoons lemon zest
1 Tablespoon brandy
2 Tablespoons honey
1/4 cup finely chopped pecans
Preheat oven to 350°F. Lightly coat an 8" springform pan with nonstick spray. In a medium bowl, using an electric mixer, beat 6 egg yolks, sugar and salt until thick and pale, about 3 minutes. Fold in apples, matzo meal, lemon zest and brandy.
In another medium bowl, with clean beaters, beat 3 egg whites until stiff peaks form, about 4 minutes. With a rubber spatula, gently fold egg whites into apple mixture and transfer batter to pan. Drizzle with honey and sprinkle with pecans. Bake until golden brown and set in center, 45 to 50 minutes. Let cake cool completely in pan on a wire rack. To serve, run a small knife around edge of pan, remove cake and slice.
– Recipe courtesy of Noble Pig