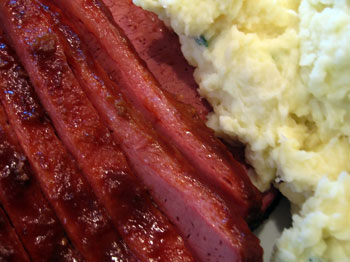 Adapted from Cuisine at Home
Submerge in Water; Simmer
1 corned beef brisket (3.5-4 lbs)

Whisk Together
1/2 cup ketchup
1/2 cup whiskey (such as Jack Daniel's)
1/2 cup apple cider vinegar
4 Tablespoons brown sugar
4 Tablespoons soy sauce
2 teaspoons dry mustard
1 teaspoon ground ginger
1/2 teaspoon red pepper flakes
Submerge corned beef, fat side up, in water, in a large pot. Cover and simmer over low heat until beef is tender when pierced with a fork, 3 hours. (If chilling overnight, keep the meat in the liquid. Bring it to a simmer the next day, then continue with the recipe).
Preheat oven to 450 degrees; line a baking sheet with foil, top with a rack, and coat with nonstick spray. Transfer the cooked beef to the prepared rack, fat side up. Use a knife to trim off the fat-it will be soft and easy to remove.
Whisk remaining ingredients together in a saucepan and bring to a boil over high heat until thickened, 4-6 minutes. Spoon glaze onto beef, reserving leftover sauce; roast for 10 minutes, or until the glaze is dark and sticky. Remove from the oven, cover, and let rest for minutes.
Transfer to a cutting board, then thinly slice against the grain.
- Recipe courtesy of Cathy Pollak from The Noble Pig