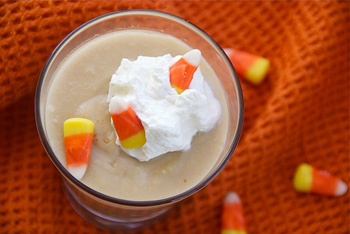 Are you ready for Halloween? Do you have your costume? Do you have enough candy to hand out to the little goblins in your neighborhood? Do you have whiskey? No, not for kids, for you.

Here's how it works: Make yourself a batch of David Lebovitz's boozy butterscotch pudding, and chill it in the fridge all day. Then after you've finished handing out all of your Halloween candy, put the kids to bed, turn off the lights and treat yourself.

Just be sure to serve it tricked-out with a dollop of freshly whipped cream and a few candy corn. That is, if you haven't already gobbled up all the candy corn in your house. If you have, then switch to salty, roasted pecans.


Butterscotch Pudding
Recipe from David Lebovitz.

4 tablespoons (60g) butter, salted or unsalted

1 cup (180g) packed dark brown or cassonade sugar

3/4 teaspoon coarse sea salt
3 tablespoons cornstarch

2½ (625ml) cups whole milk

2 large eggs

2 teaspoons whiskey

1 teaspoon vanilla extract

1. Melt the butter in a medium-sized saucepan. Add the dark brown sugar and salt, then stir until the sugar is well-moistened. Remove from heat.

2. In a small bowl, whisk together the cornstarch with about 1/4 cup (60ml) of the milk until smooth (there should be no visible pills of cornstarch), then whisk in the eggs.

3. Gradually pour the remaining milk into the melted brown sugar, whisking constantly, then whisk in the cornstarch mixture as well.

4. Return the pan to the heat and bring the mixture to a boil, whisking frequently. Once it begins to bubble, reduce the heat to a low simmer and continue to cook for one minute, whisking non-stop, until the pudding thickens to the consistency of hot fudge sauce.

5. Remove from heat and stir in the whiskey and vanilla. If slightly-curdled looking, blend as indicated above.

6. Pour into 4 serving glasses or custard cups and chill thoroughly, at least four hours, before serving.

Freshly Whipped Cream from Food Blogga
1/2 cup heavy whipped cream
1 tablespoon sugar
1-2 teaspoons whiskey, if you dare

1. Before you begin to make the whipped cream, consider these helpful tips: Start with a deep stainless steel bowl that has been chilled in the freezer for about 15-20 minutes. Chill the beaters of the electric mixer as well. Both will help to create more volume in the cream. Once ready beat ½ cup heavy whipping cream on medium-high speed until soft peaks form. Sprinkle sugar evenly over the whipped cream and beat until peaks re-form. Whipped cream can be covered with Saran Wrap and refrigerated for 1-2 hours before serving.

2. Top each pudding with a dollop of whipped cream and a few candy corns. Indulge.
Susan Russo is a free lance food writer in San Diego, California. She publishes stories, recipes, and photos on her cooking blog, <Food Blogga and is a regular contributor to NPR's <Kitchen Window. She is also the author of Recipes Every Man Should Know
and The Encyclopedia of Sandwiches
.