Adapted from Martha Stewart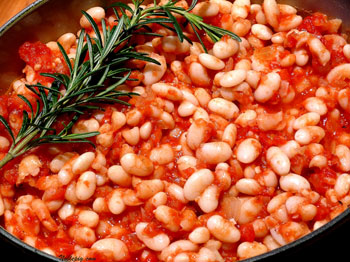 1 pound dried white beans, such as Great Northern or cannellini, picked over, rinsed and drained
1 onion, 1 half finely chopped (1/2 cup)
1 carrot, cut crosswise into thirds
1 celery stalk, cut crosswise into thirds
1 dried bay leaf
1 can (28 ounces) whole plum tomatoes, with juice
2 Tablespoons extra-virgin olive oil, plus more for drizzling
2 garlic cloves, minced
1/8 teaspoon red-pepper flakes
1 sprig rosemary
Coarse salt and freshly ground pepper
Parmesan cheese for sprinkling

Soak beans in water overnight. Drain, and transfer to a large pot. Cover beans with 4 inches of water. Add the intact half of the onion, the carrot, celery and bay leaf. Bring to a boil. Reduce heat and simmer until beans are tender but not bursting, about 1 hour. Drain, and remove onion, carrot, celery and bay leaf; discard.

Pulse tomatoes, with juice, in a food processor until coarsely chopped. Heat oil in a medium heavy-bottomed pot over medium heat. Add chopped onion and red-pepper flakes. Cook until tender and add garlic the last 30 seconds or until fragrant. Add tomatoes and rosemary. Bring to a boil.

Add beans and simmer, stirring occasionally, until tomato sauce thickens, about 20 minutes. Season with salt and pepper, I felt it needed a decent amount of salt for flavor. (Beans can be refrigerated for up to 3 days.) Serve warm and drizzle with oil and sprinkle each serving with Parmesan cheese just before serving.

If the stew is made in advance, be sure to remove the rosemary sprig and let the beans cool before refrigerating. It should be reheated gently over medium-low heat.
- Recipe courtesy of Cathy Pollak