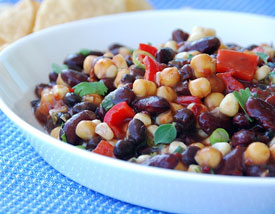 Makes 4-6 servings
Sauce:
1 cup ketchup, preferably Heinz
1/4 cup light brown sugar
1 tablespoon Dijon mustard
1 teaspoon Tabasco sauce
2 teaspoons apple cider vinegar
3-4 chipotle peppers in adobo sauce, finely chopped, plus 1-2 tablespoons of adobo sauce**

Salad:
1 teaspoon olive oil
2 green onions, thinly sliced
2 ears sweet corn, kernels removed from the cob
1 red bell pepper, chopped
1 (14.5 oz) can of black beans, rinsed
1 (14.5 oz) can of red kidney beans, rinsed
1 (14.5 oz) can of chick peas, rinsed
2 tablespoons finely chopped fresh cilantro
1 tablespoon finely chopped fresh oregano
To make the sauce, whisk together all ingredients in a medium bowl, and set aside.
To make the salad, heat olive in a large skillet over medium heat. Add green onion and corn kernels. Saute until lightly browned, about 3-4 minutes. Remove from heat, and add to a large bowl. Add raw bell pepper, rinsed beans, and bbq sauce; stir until well combined. Gently stir in the fresh herbs. Adjust seasonings if necessary. Serve at room temperature or slightly chilled, though it tastes better if allowed to rest for a couple of hours.
**Canned chipotle peppers in adobo sauce can be found in Mexican markets as well as in the Mexican section of most major supermarkets.
-Recipe courtesy of Susan Russo at Food Blogga