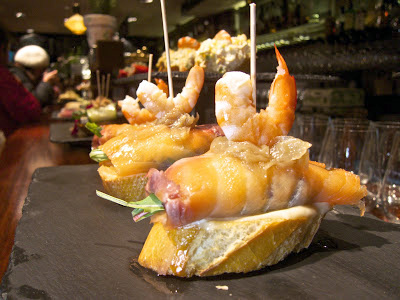 On a trip to Northern Spain in the spring, I discovered pintxos.
In Spanish bars, the appetizers served with beverages are tapas (about which everyone knows), pintxos and bocadilas. There's an easy way to distinguish one from the other. No bread on the plate, it's tapas. One slice of grilled bread, pintxos. Two pieces of bread (or a roll), bocadillas.
Bar food can be as simple as a bowl of beer nuts, but in Spain having a bite to eat in a bar means something very different.
On the trip, we ate elaborately designed pintxos with shrimps riding bareback on saddles of caramelized onions and smoked salmon that topped freshly grilled slices of sourdough bread.
Others featured anchovies with hardboiled eggs, whole roasted piquillo (small red peppers) stuffed with tuna fish, prosciutto wrapped around wild arugula leaves, delicately thin omelets rolled around finely chopped seasoned tomatoes and flat strips of roasted red bell peppers topped with slabs of brie and an anchovy fillet.
The invention and flavors of pintxos are unlimited. Think of wonderfully supportive flavors and textures to place on top the solid foundation of a thin slice of grilled bread and you have a beautiful and tasty appetizer to go with an ice cold beer, glass of crisp white wine or a refreshing summer cocktail like fresh fruit Sangria.
Tomato Pintxos with Fresh Tomatoes, Thin Sliced Olives and Dried Oregano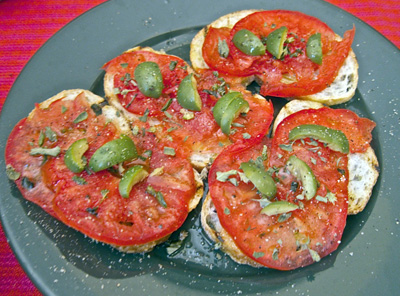 One of the best pintxos I enjoyed on the trip was the simplest. Don't get me wrong, I loved the elaborately constructed shrimp pintxos at Atari Gastronteka (Calle Mayor 18, 20001 Donostia-San Sebastián, Spain, 34 943 44 07 92) in San Sebastián, but in Oviedo, near the Cathedral in the old town, in a working man's bar away from the tourist crush, A'Tarantella (Calle Jesus n 1, Oviedo, Spain, 985 73 81 65) restaurant served a simple pintxos that was one of my favorites.
Thin slices of tomatoes were laid on top of a piece of grilled bread, seasoned only with a drizzle of olive oil, salt, pepper, sliced, pitted olives were scattered on top and dusted with dried oregano.
Easy to prepare. Simple flavors. Delicious.
For the bread, a dense white or whole wheat loaf is best. The tomatoes should be fresh and ripe but firm.
The individual ingredients can be prepared an hour ahead but the pintxos should be assembled just before serving to prevent the bread from becoming soggy from all those delicious tomato juices.
Serves 4
Ingredients:
2 large, ripe but firm farmers market fresh tomatoes
12 large, pitted green olives, thin sliced, 1/8"
8 slices thin sliced French bread
1/2 teaspoon dried oregano
1 tablespoon olive oil
Sea salt and black pepper to taste
Directions:
Slice the bread 1/4" thick. Grill on a hot barbecue, cast iron frying pan with grill ridges or roast in a 450 F oven for a few seconds to put grill-marks on each side. Remove. Set aside. Set up an assembly line with the ingredients ready to go as soon as the bread is grilled.
Using a sharp chefs knife, slice the tomatoes as thin as possible. The tops and bottoms of the tomatoes should not be used. They can be finely chopped and used as a topping for another pintxos or to create a salsa.
Assemble each tomato pintxos in the following order: grilled bread, drizzled with olive oil, tomato slices, pitted olive slices, a seasoning of dried oregano, sea salt, black pepper and (optional) a final drizzle of olive oil.
Serve immediately with ice cold beverages.
David Latt is an Emmy-award winning television producer who turns to cooking to alleviate stress. He shares his experiences with food and his favorite recipes on his blog Men Who Like To Cook.