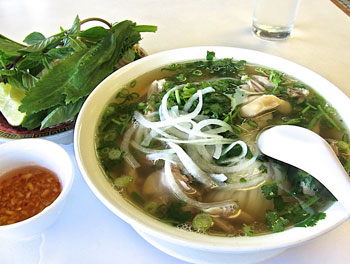 Being creative in cooking sometimes means breaking the rules or borrowing a sauce from a traditional dish and using it in a non-traditional way.
When a diner is served the popular Vietnamese soup called pho, a basket of fresh green vegetables and bean sprouts accompanies a giant soup bowl filled to the brim with meat and noodles. For seasoning, a dipping sauce is also provided. As a matter of personal taste, I prefer the lighter pho ga, made with chicken, to its deeper flavored, beefy cousins. After years of eating pho ga I realized that part of my craving for the soup was because I loved the dipping sauce called nuoc cham gung.
In the sauce, finely minced ginger and garlic mingle with flecks of dried Szechuan peppers in a vinegary-salty-sweet sauce, accentuated with lime-citrus notes.
With one of those wonderful epiphanies that happen to foodies who think about food a bit too much, I realized that nuoc cham gung would make a good marinade and glaze for my favorite appetizer—chicken wings.
Chicken on the bone, cooked on the grill or in the oven, has a moist-sweetness that is accentuated perfectly by this modified version of nuoc cham gung.
Because of its deeply flavored saltiness, fish sauce, variously called nuoc mam in Vietnam or nam pla in Thailand, is an essential ingredient in the recipe.
Easily found in Asian markets, the sauce is inexpensive and lasts for years in the refrigerator.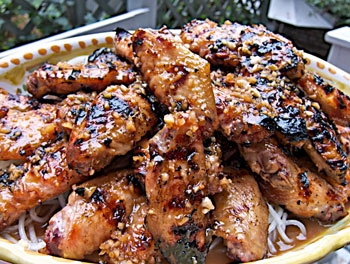 Spicy Sweet Ginger-Garlic Chicken Wings
Serves 4 as an entrée or 8 as an appetizer
Ingredients:
2 pounds chicken wings, washed, disjointed, wing tips discarded or reserved and used to make stock
1/2 cup white sugar
1/2 cup warm water
1/4 cup fish sauce--preferably a light caramel colored brand
1/4 cup white vinegar
2 teaspoons fresh lime juice
4 cloves garlic minced
1 dried Chinese Szechuan pepper, stem removed, seeds and skin minced
3 tablespoons or 3" ginger, peeled, minced
2 tablespoons brown sugar, to taste
Directions:
1. In a large non-reactive bowl, dissolve the white sugar in warm water. Add the other ingredients, stir to mix well and add the chicken wings. Transfer to a sealable plastic bag and refrigerate one hour or, preferably, overnight.
2. Remove the wings and transfer the marinade to a small saucepan, adding the brown sugar. Stir to dissolve and reduce by a half or, if you want a thicker glaze, by two-thirds over a medium flame to create a glaze that should have a good balance of sweetness and heat. Taste and adjust for more sweetness if desired by adding another tablespoon of brown sugar.
3. The wings can either be grilled on a barbecue or baked in a 350°F oven on a rack on a baking sheet lined with aluminum foil for easy clean up. Turn every ten minutes. Cook until tender, about 30 minutes.
4. Place the wings on a large plate of Asian noodles, steamed rice, or shredded lettuce. Just before serving, pour the hot glaze over the top.
David Latt is an Emmy-award winning television producer who turns to cooking to alleviate stress. He shares his experiences with food and his favorite recipes on his blog Men Who Like To Cook.