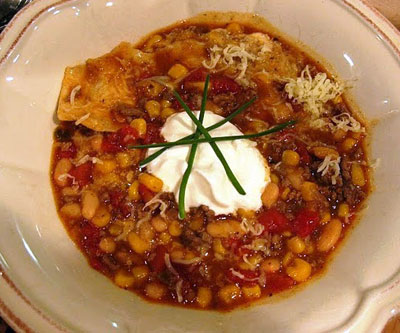 So any dish that I can make one day, eat it the next two or so, and enjoy it every time is a winner in my book. Soups and stews are most always better once they have "set" and allowed their flavors to thoroughly combine. This stew slash thick soup is of no exception. Delicious right out of the pot and just as good the next day, my Mexican Stew is an easy winner.
Don't get me wrong, I love soups and food in general, but condiments, sides, garnishes, and flavor savors make a dish! Sour cream and Monterey Pepper Jack cheese in this case. Now, about this cheese…oh my! The Monterey Jack or Pepper Jack I love is from our local meat market, M&T Meats in Hawkinsville. It IS a cheese among cheeses. Very creamy, plenty of pepper warmth but not fiery, and melts in a jiffy…this is a cheese for me! The ones at the grocery are just fine, but if you have the chance to buy a local cheese, pounce on the opportunity…it is well worth it!

I digress, back on to the Mexican Stew. Meaty, hearty, and full of flavor, this stew was born out of what I had on hand – sometimes making the best dishes. A leaner ground beef and little bit of ground sausage (plain ol' good sausage, no flavorings…mine again was from M&T) make for a textural background flavor and also provide the right amount of cooking fat for the whole stew. Browning onions first, then browning the beef and sausage with the onions and using their renderings, gives substance and flavor layering to this stew. If you think there is too much fat or oil in the pan, skim some out…save it for cooking veggies or another dish. I then flavor the meat with cumin, diced green chilies, a little bit of garlic, some cayenne and chopped green onion for some zest. To really get this stew south of the border, add a package of mild chili mix and kick the whole dish up a notch. Taste as you cook, and remember you can always add more seasoning but not remove!

After the meats have cooked thoroughly and the flavor have begun to set in (onions brown and translucent, garlic soft, spices and chilies homogenized throughout the meat), it is time for the liquids. I use a small can of salsa, canned tomatoes (if you've put some up from the summer, use these), Northern beans, black beans, whole kernel corn, and V8 juice make up the liquid portion. Depending on how much tomato juice you employ will determine your soup or stew status…I like a thicker soup, so I am dubbing this a stew.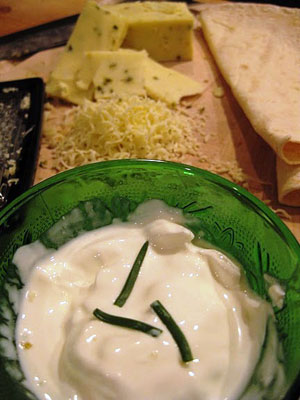 Tomato sauce or paste can be a great flavor depth as well as thickener. Besides, what is better than a one pot dump all in dish, right? I tore up tortilla shells at the end to serve as "dumplings" and a marvelous addition they were. Plus, I served Pepper Jack Quesadillas with the soup, since I had tortillas on hand. This stew is very simple and delicious. It can feed an army and be stored or frozen easily. If you like super hot food, add some heat with more peppers or cayenne (I used a scant bit of cayenne for kick).
On top of being easy, this stew is simply elegant…a well ladled bowl full garnish with sour cream and Pepper Jack cheese crumbled or shredded on top is awesome. Cornbread works well too if quesadillas aren't your thing or as an added bonus! Good year round and especially during the cold winter months, my Mexican Stew is a mainstay around this kitchen, and I hope it will be for yours! Enjoy!
Mexican Stew
Ingredients:

1 lb. of ground beef, fairly lean
1 lb. of ground pork sausage (turkey or chicken is fine too)
1 tablespoon Cumin
Cayenne Pepper…to taste…
One medium Vidalia onion finely chopped (brown in butter and olive oil)
One Green Onion…green and white portion chopped
1 Tablespoon of minced garlic
Salt and Black pepper to taste
One package of mild chili seasoning
One can (about 4oz) of mild green chilies
2-3 cans of crushed or stewed tomatoes…depends on how chunky you want the stew
2 cans of whole kernel corn
2 cans of northern beans
2 cans of black beans
V8 to thin add needed
One can of salsa…a smaller jar…you can also use it as a condiment instead of an ingredient.
Torn tortilla shells as dumplings…they puff up and add a great texture.
Pepper Jack cheese and sour cream as condiments and garnish…green onion nice too!
Begin browning your chopped Vidalia or sweet onion in a preheated skillet with a couple tablespoons of butter and olive oil respectively…remember, butter for flavor, oil for temperature! Medium heat is perfect.
Once your onions are showing some softness and browning, add your ground beef and sausage…stirring them all together. Add garlic once the meat begins to brown. Just before the meet is totally cooked, add the spices, green onion, and chili seasoning. This is really your flavor roux for the whole stew.
Start adding your canned veggies…don't drain them too much if at all. The bean "juice" or liquid is a great thickener and flavor layer. Add the salsa as well.
Bring the soup or stew to a low boil or good simmer…throw in the torn tortilla strips and watch them puff…this part is fun to me! Serve once the tortillas are puffed or keep it on low for as long as you need. Part of the beauty of this dish is its flexibility of when and how to serve.
As for the Pepper Jack quesadillas…take a tortilla shell, fill the middle with shredded or crumbled cheese, and grill them on a griddle, bake in an oven, or even microwave…the cheese melts in seconds and if your grill or bake them, a light coat of butter or olive oil won't hurt…sunscreen in a sense! Ha!
Cut the quesadillas into wedges and serve…these are highly addictive and delicious to boot! Enjoy!
James T. Farmer III was born and raised in Georgia, where he continues to live and work as a landscape designer. He shares his love of food, flowers and photography on his blog All Things Farmer.