When I left Dallas for ABC News in New York in 1991, Javier gave me the recipe. After reducing down his instructions–which called for 30 pounds of tomatillos!–I attempted, over and over, to get it right. But it was never quite the same and I gave up.
Years later, when I was back at ABC doing Good Morning America, Javier sent a batch to N.Y. for my birthday and I got on a tangent again, trying to re-capture that taste.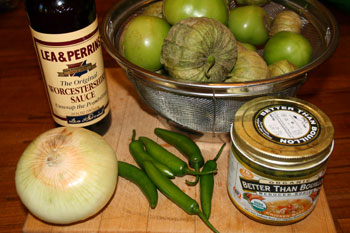 It's funny, but after many, many, many more failed attempts, only after I started cooking skinny did I finally make the right changes to the recipe so that it now captures the same taste, textures and memories of the original but is easier to make.
And though I don't eat it with 2 buckets of chips anymore, I do use it on everything from fajitas, to fish to veggie omelets.
To my gaggle of Texas girls, Andrea, Mary Anne, Cindy, Sara, Della and Ellen (and Javier) I send ya'll a big (but skinny) Ole' !
MAGIC GREEN ELIXIR (Roasted Tomatillo Sauce ala Javier's)
2 1/2 pounds of tomatillos, whole, outer skin removed
1 teaspoon Better Than Bouillon chicken broth paste
1 teapoon Worcestershire Sauce
1 teaspoon minced garlic
3 Serrano peppers, minced
½ small yellow or white onion, chopped fine
½ bunch of cilantro (a good handful) chopped fine
1 tablespoon sugar (I know, I rarely ever use white sugar, but this dish must have it)
Preheat oven to 425 and spray your Pyrex dish with cooking spray.
Peel the papery skin off the tomatillos, wash, and toss them, WHOLE, into the dish. Add the chicken paste, Worcestershire sauce, garlic, minced Serranos, onion, cilantro and sugar. I don't even stir it but you can if you like. (I know you don't think this will work without added liquid or chopping the tomatillos but, trust me, it will.)
Cover tightly with foil.
After an hour and 20 minutes, the tomatillos will have melted, releasing all of their juices. Loosen the foil so the steam will escape, stir a bit, and turn off the heat but let them rest in the oven for another 30 minutes or so.
Remove from the oven and mash them a bit with a wood spoon.
Serve on fish, tacos, omelets, or just eat with a few (not many!) chips…
Nirvana!!
After 25 years as a local and network anchor, Lisa was just another American mother struggling, and failing, to lose weight. Finally, she cracked the code, and lost 30 pounds, quickly and for good, by doing what she loves: reporting, cooking and eating! The Skinny is the inside story on how she did it, and how you can, too!