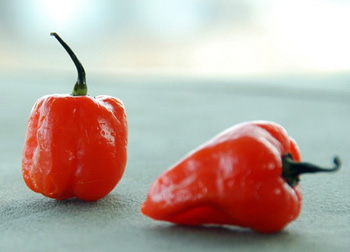 In August 1997, and Jeff and I were at the Raleigh Farmers' Market in North Carolina. A farmer was selling a wide variety of chilies, including habaneros. I was instantly drawn to their shiny, reddish-orange skin and almost heart-like shape.

"What do habaneros taste like? I asked.

"They got kick in 'em," he said, as he chewed on a toothpick.

"Can they be eaten raw, or should I cook them?" I asked.

"You can eat 'em any way you like," he said, now twirling the toothpick between his thumb and forefinger.

"How 'bout the seeds? Should I take them out first?" I asked.
"If you want to," he said.

Realizing I was just going to have to find out for myself, I quickly selected four or five brilliant habaneros, paid for them, and proudly announced to Jeff that I would make burritos with habanero salsa for dinner.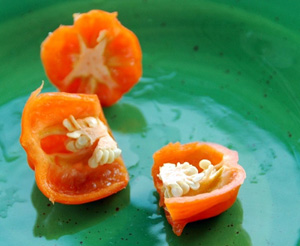 As I was preparing the salsa, Jeff sampled a tiny piece of the habanero; he coughed a couple of times and declared it "pretty hot." I decided to forgo the taste test and chopped up two habaneros, seeds and all.

We sat down to eat dinner, and I added a spoonful of my brilliant orange habanero salsa to my burrito. After the first bite, I felt a burning sensation on my lips, then my tongue started to prick with heat. Within seconds, actual flames of fire were leaping through the roof of my mouth into my nose. I tried to yelp but only gurgling sounds came out.

Jeff, realizing I was in trouble, handed me a glass of water. (This was before medical school; what did he know?) I waited for relief. Instead, like throwing water on hot oil, the fire in my mouth roared.

After a couple minutes of coughing and chest pounding, I said to Jeff, "My lipth feelths funny." I went into the bathroom and sure enough, my upper lip was swollen to twice its size. I'd always wanted fuller lips but this was ridiculous.

I've learned a few things about chilies since that memorable day. Turns out a chili's "heat" comes from a compound called capsaicin and can be measured on the Scoville Scale. Created by a chemist named Wilbur Scoville, this scale accurately measures the level of capsaicin in a chili. Scoville heat units (SHU) indicate the amount of capsaicin in a chili. For instance,
– a red bell pepper registers a zero (you feel nothing)
– a jalapeno = 2,500-8,000 (you feel a mild tingling sensation in your mouth)
– a serrano = 10,000-25,000 (your lips and belly get warm and prick with heat)
– a habanero = 100,000-350,000 (pain, not enjoyment, pain)
The Wall Street Journal had a story on the world's hottest chili, the bhut jolokia, which registers over 1,000,000 SHU! At that heat, I would be afraid of dying.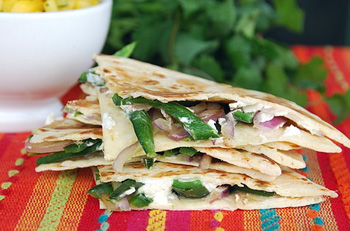 Despite my initial adverse reaction, I still eat habaneros but without the seeds. And if my mouth starts to burn, I don't drink water. I eat bread or a banana; I've read that creamy foods like yogurt are supposed to work too.
So please try these quesadillas with a fruity habanero salsa. The sweet pineapple, mango, and kiwi contrast pleasingly with the spicy green onions and fiery habanero. Plus the acidic lime juice helps to temper the chili's heat. It's a quick mid-week meal or easy party dish. Feel free to play around with the ingredients to your liking; after all, quesadillas are meant to be fun.

When you make them, just be sure to have some bread, bananas, and yogurt nearby, just in case.
Goat Cheese and Poblano Quesadillas with Pineapple-Mango-Habanero Salsa
Make 4 quesadillas

Salsa:
1 cup diced fresh pineapple
1 cup diced fresh mango
1 diced kiwi
1 habanero, minced, and seeds removed (unless you're a glutton for punishment)
2 green onions, thinly sliced
the juice of 1 lime
1 tablespoon minced fresh cilantro
salt, to taste

Quesadillas:
1 large or 2 small poblano peppers, de-seeded and thinly sliced
1 teaspoon canola oil
1 medium red onion, thinly sliced
1 teaspoon sugar
salt, to taste

8 (6-7- inch flour tortillas)
4 ounces goat cheese

To prepare the salsa, place all ingredients in a medium bowl and gently toss. Allow to rest for at least 30 minutes (or up to 2 hours) for the flavors to mingle.

Place poblano pepper over an open gas flame, turning occasionally, until thoroughly charred and blistered on all sides. Wrap tightly in aluminum foil and let rest for 15 to 20 minutes. Remove, and using some paper towel, gently scrape off the skin. Halve, stem and seed the pepper. Cut into strips, then dice, and place in a bowl. Set aside.
Heat a medium nonstick skillet over medium heat. Add canola oil and red onion, and saute for 3-5 minutes. Add sugar, reduce heat to low, and continue to cook until onions are caramelized, about 7-10 minutes. Add cooked poblano peppers to the skillet, season with salt, and toss to combine. Remove from heat.
Place 1 tortilla on a clean cutting board; spread with 1 ounce of goat cheese, then 1/4 of the poblano mixture. Top with another tortilla, and press lightly with your hand. Continue with remaining tortillas and filling until you complete 4 quesadillas.
Heat a large, nonstick, dry skillet over medium heat. Add 1 quesadilla. Cook until lightly browned, about 2 minutes per side. Transfer to a baking sheet and place in a warm oven (200-300 degrees F) until ready to serve. (Or eat 'em as you make 'em.) Repeat with remaining 3 quesadillas.
Cut each quesadilla into 3 or 4 wedges. Serve with salsa.
Susan Russo is a free lance food writer in San Diego, California. She publishes stories, recipes, and photos on her cooking blog, <Food Blogga and is a regular contributor to NPR's <Kitchen Window. She is also the author of Recipes Every Man Should Know
.