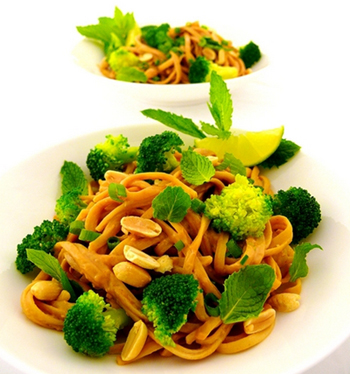 While I was staring aimlessly into the cupboard the other night, looking for my daily dinner inspiration, I came across four jars of peanut butter. I had crunchy, creamy, smooth and natural. The point was I needed to do something with them. Peanut butter and jelly wasn't going to cut it, unless I wanted a mutiny on my hands. Since I love a good peanut sauce, I figured that was the direction I was heading. Before I knew it, Fragrant Peanut-Lime Noodles graced my dinner table. I decided not to make them spicy since it was a family meal but a few red pepper flakes could definitely give you the heat, if so desired.
The sauce is creamy and clings nicely to the linguini. With added broccoli, you have your vegetables covered and the peanuts add a nice crunchy texture. Mealtime was a smashing success and everyone walked away from the table content. The best part, this dinner comes together easily for a quick, weeknight meal while packing a weekend punch.
Fragrant Peanut-Lime Noodles

1 pound linguini
¾ cup natural creamy peanut butter
¼ cup low-sodium soy sauce
¼ cup water plus 2 Tablespoons
3 Tablespoons rice vinegar
Juice of one lime
2 teaspoons fresh ginger, chopped
1 green onion, more for garnish
3 Tablespoons light brown sugar
2 cups broccoli florets
½ cup shelled salted peanuts
Fresh mint leaves
Cook the linguini in a large pot of salted water according to the directions on the package. Drain and rinse with cold water. Set aside.
While the pasta is cooking steam 2 cups broccoli florets in a steamer basket for 4 minutes.
Make the peanut sauce in a food processor or blender by pureeing until smooth peanut butter, soy sauce, water, rice vinegar, fresh ginger, juice of one lime, green onion and brown sugar.
Immediately before serving, toss the pasta with 1 cup of the peanut sauce. Top each serving with broccoli florets and drizzle the remaining sauce over the vegetables. Coarsely chop peanuts and sprinkle on top along with fresh mint leaves and chopped green onion.
Serves six.
Cathy is currently in the development stages of her vineyard and winery in the Willamette Valley of Oregon. She is a food writer for Davis Life Magazine and blogs daily about wine, food and everyday living. She lives with her husband and two sons. You can visit her at noblepig.com.