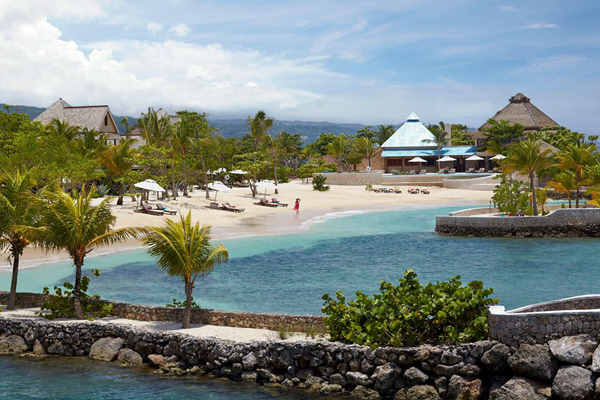 "Foodie" vacations are usually to countries like France, Italy or China. But Jamaica? Sun, surf, music and, dare we forget, ganja, of course, but food? So how fabulous to find it is also a haven for some mighty fine dining.
On a recent trip with my two adult daughters, both huge food fans, it was no surprise to find the food at Chris Blackwell's Golden Eye Resort to be very good, considering it's a world-class luxury hotel. By all accounts Mr. Blackwell's chefs have been serving "farm to table" fare before Brooklyn became hip and those 3 words became an overly-used tagline.
The three of us were on a mother/daughter bonding trip. One coming in from the cold back East, one from a damp fall college semester in London, and I was coming from sunny Southern California to celebrate one of those big number birthdays!
We were all on the same page as to what we wanted to do. Nothing. Lay in the sun, swim in the green/blue bath temperature sea, read beach books, and sit by the pool sipping fruit infused drinks decorated with paper umbrellas. (Made with Mr. Blackwell's private label rum.) Naps were nice, as well. Again, because we were staying at Golden Eye we figured we would eat well, but none of us counted on the OMG moments we had. Several times!
Since the most famous Jamaican dish, Jerk Chicken, has been written up many times I'm skipping it except to say that this heavily spiced roasted or fried chicken is an Island staple. Served with rice it is delicious, but in the signature "club" sandwich on the lunch menu at Golden Eye's Bizot bar, it is a treat for the whole mouth!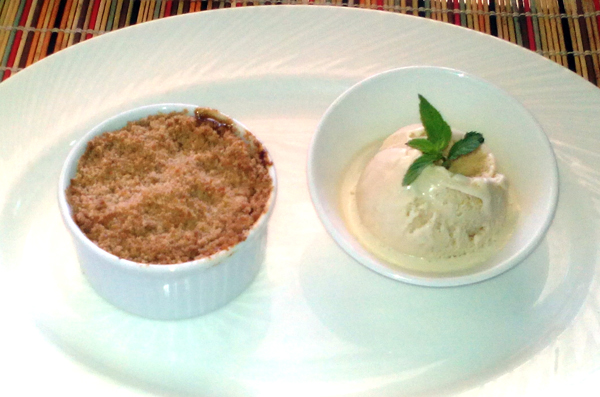 The true culinary surprise and delight, though, was a dessert we'd never had before. When we saw Warm Banana Crumble on the menu the three of us let out a "Hmmm" that could be heard at the next table. The Oh My God's we let out after the first bites caused the heads at that next table to turn!
It is fair to say that we love desserts. Not that it makes us experts but when dining out we usually order two or three to share and compare. Since we've been doing this for years, both at home and when traveling, I'd say we can each give an educated critique on desserts. It is our educated opinion that Banana Crumble, with its insides drizzled with warm caramel, served with vanilla ice cream, IS in fact the best dessert any of us have ever tasted! Hail to Chef Clarence of Golden Eye for parting with his recipe! (See below).
Our next culinary surprise came when we went "off site", as they say at Golden Eye, to Toscanini, 20 minutes south of the resort, just outside of Ocho Rios. It was recommended as "not to be missed." Who would have thought? Great Italian food outside of Italy or New York City? Ok, Ok, Ok, Chicago, and not to anger my hometown Italian chefs, LA too. But Jamaica? You could've knocked me down with a strand of spaghetti!
Toscanini is a family affair owned by Lella and PG Ricci who opened it 18 years ago. They take turns cooking, carrying on their parents' legacy. Their father, Lino, was born and raised in the Apennine region of Italy famous for Parmigiano-Reggiano Cheese and Porcini mushrooms. Their parents moved to London where they opened an Italian restaurant in SoHo. Lella says you could walk in the front door any day of the week and be wooed by the aroma of veal knuckle soup or beef brisket. Well, we were wooed by Lella herself, an old school restaurateur who treats everyone like a guest in her home.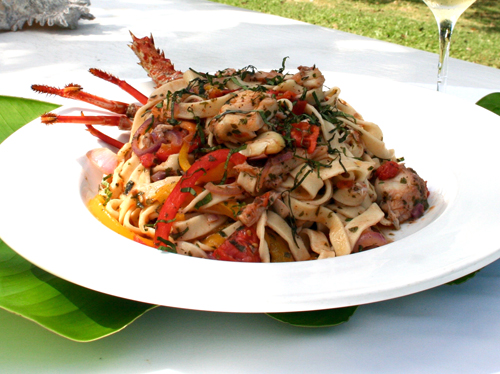 Then we were wowed by her food! I had the Chicken Milanese, which was out of this world accompanied by the best roasted potatoes I've ever eaten. Being Irish, I know my potatoes! When I mentioned this to Lella she credited the soil telling me that when she was a little girl in Italy she would help her grandmother dig potatoes in her garden. Her grandmother would always say,"with potatoes it's the soil". I have to add, it was chef PG's cooking as well.
The OMG dish that night however was Toscanini's special; lobster linguini. My daughters went crazy declaring that we had to eat there again the next night. But alas! The next night was Monday, the only day of the week Toscanini is closed. And we left on Tuesday morning.
There was nothing to do but savor the memory of that lobster linguini and spend our last day at Golden Eye drowning our sorrows in Warm Banana Crumble!
BIZOT BAR BANANA CRUMBLE
Ingredients:
2 Ripe Bananas
1 tablespoon unsalted butter
1 tablespoon Dark Sugar
1/2 teaspoon Cinnamon powder
2 fl oz Blackwell Rum
1/2 teaspoon vanilla
For Crumble Topping:
3/4 cup Flour
1/2 Cup Sugar
1/4 Cup Butter, diced
1 teaspoon Cinnamon
Procedure:
To make topping combine flour, butter, sugar and Cinnamon. Use your hands to mix together until the mix resembles fine sand. Reserve.
In heated a sauté pan melt the butter. Add sliced bananas, sugar, cinnamon and vanilla. Caramelize until you have a golden brown colour. Deglaze the mixture with the Blackwell rum. You may add more rum or sugar depending on your taste.
Place the banana mixture in an oven proof dish, spoon the crumble mixture on top and bake in an oven at 375°F until the topping is golden brown.
Bon appétit
TOSCANINI'S LOBSTER LINGUINE
Linguine or Fettuccine
2 tablespoons Olive oil
2 cloves thinly sliced garlic
1 medium size thinly sliced sweet pepper, half yellow, half red
1 small Thinly sliced Red Onion
12 Halved Cherry Tomatoes
280 gr. Blanched Fresh Lobster chunks
Julienne basil
Salt and fresh ground black pepper to taste
For extra spice sliced scotch bonnet hot pepper to taste
Half a glass of good white wine.
Sweat all the vegetables in olive oil, add the lobster chunks and saute on medium heat. Cook until veg and lobster have some nice colour. Add wine and reduce. Add salt, pepper, hot pepper to taste. Set aside and keep warm.
Cook pasta al dente, add to the lobster pan mix and saute until properly tossed together and warm. Add in julienne basil before serving.
LA based Writer, Annie Stein, has written for C and More Magazines, NYTimes and is a regular blogger on Huffington Post. She runs creative writing workshops for at risk teens.