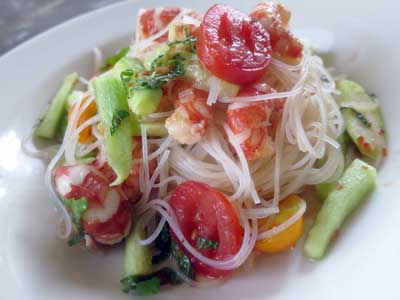 My improvisational style of cooking involves templates. Especially when it comes to cold noodles. I hate thinking of them as "salads" since that implies a "dressing" that is at the forefront. Instead, they're bowls of cool freshness, or fresh coolness. When it's hot I want a flavor bomb, some spice and not a lot of fat. That fat part? Speaking not from a diet perspective but from a mouth feel. Hot weather eating cries out for something clean, with a defined flavor profile. Not sludgy. So I tend to look toward Asia for flavor influence.
These spontaneous noodles come together with whatever I happen to have on hand. This time I used rice noodles which are perfect for hot weather since you don't really need to boil them. I bring water to the boil, add the noodles and turn off the heat. The rice noodles soften in a matter of minutes. Drain them and squeeze out more of the water and you're ready to toss them with the Nuoc Cham. I like tossing the noodles in the sauce then putting them in the refrigerator to cool and soak while I prepare the rest of the ingredients. You can also prep the veggies and let them marinate in the sauce while you cook the noodles.
What you see are Santa Barbara Ridgeback Shrimp (that came in my fish CSA share), raw peeled asparagus stem slices, cucumber, cherry tomato slices, onion, green onion and torn mint leaves. I didn't have cilantro in the fridge or I would have added it. The noodles and sauce are a canvas on which you can play.
This dish is all about the Vietnamese dipping sauce Nuoc Cham. It hits all the bases: sour, salty, spicy with a hint of sweet. Like a jalapeño margarita. I'm serious. Isn't that the reason we love margaritas when it's hot? But as always when I dip into Asian culinary territory I don't have an intuitive way of putting things together which is why I had such an aha moment reading Andrea Nguyen's advice. She says that as a kid she was her family's sauce maker because she took it so seriously. I believe that. And she developed a very smart way of putting nuoc cham together that will enable you to put your individual stamp on it.
She starts by taking the first 3 ingredients (lime, sugar, water) and making limeade. That way you start out with the balance of sour and sweet that fits your taste. You also can dilute or intensify the sourness by changing the amount of water in the limeade. Only then do you add the fish sauce (salt) and chile (heat). By the way don't omit the fish sauce. It's everything in this recipe, the perfect kind of umami bomb saltiness. Now I have the tools to throw this versatile sauce together without feeling like I'm all thumbs. Thank you Andrea!
Nuoc Cham by Andrea Nguyen
3 tablespoons lime juice (1 fat, thin skin lime)
2 tablespoons sugar
1/2 cup water
2 1/2 tablespoons fish sauce
Optional additions:
1 small garlic clove, finely minced
1 or 2 Thai chilis, thinly sliced or 1 teaspoon homemade chili garlic sauce or store bought (tuong ot toi)
1. Make limeade. Combine the lime juice, sugar and water, stirring to dissolve the sugar. Taste and as yourself this question: Does this limeade taste good? Adjust the flavors to balance out the sweet and sour.
2. Finish with fish sauce. Add the fish sauce and any of the optional ingredients. Taste again and adjust the flavors to your liking, balancing out the sour, sweet, salty and spicy. Aim for a bold, forward finish — perhaps a little stronger than what you'd normally like.
Evan Kleiman is an active speaker on culinary subjects as well as issues of food culture and sustainability and, just to keep a balance, she has a very public love affair with Pie. She's been called the Jerry Garcia of cooking with the freewheeling improvisation she brings to the kitchen. You can follow her exploits on her blog at http://www.evankleiman.com/