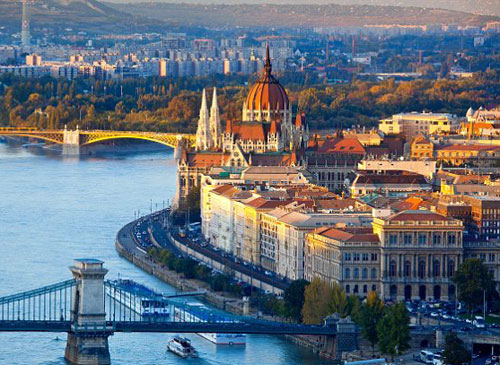 Chicken Paprikash, one of Hungary's signature comfort food dishes, is made with the country's quintessential ingredient - paprika. Perhaps not as famous as the better known Goulash, it is still found on nearly every menu and is a common recipe in most Hungarian homes. I was in Budapest for the first time a few months ago and loved the city, in fact I'm already planning a return trip.
Condé Nast Traveler recently published its annual Readers' Choice Awards and the "30 best cities in the world" list, which named Budapest, Hungary, as the second-best city in the world, right below Florence, Italy. It's no wonder – a thriving vibrant city, rich in culture, a complex history, world renowned spas, and gorgeous architecture – there's something for everyone in Budapest. Although it helped to have some friends who live in Hungary, I found the city easy to navigate and fun to explore, and I recommend it to anyone looking for a new travel destination.
After researching a few hotels, I opted for the relatively new Aria Hotel Budapest, a stately 19th century bank building transformed into a luxurious boutique hotel centrally located just down from St. Stephen's Basilica. After settling into my spacious and modern music themed "Leonard Bernstein" room, I headed downstairs to Aria's Satchmo's Bar (which offers both lunch and dinner served either inside or outside on the terrace) to meet with Balázs Váradi-Szabó and learn about the hotel's cuisine. Balázs, their incredibly knowledgeable food and beverage manager, explained that the current menu in many ways reflects the hotel itself – "classic Hungarian with a modern twist." Patrons hoping to sample the famed Paprikash can expect a deconstructed version which can be found on their inspired menu as a warm appetizer - the "Hortobágyi éclair" features tender paprika chicken wrapped in a soft crepe-like pastry.
The hotel's chef, Gabor Ferencz, has created a menu showcasing classic Hungarian flavors, with dishes prepared and presented in a distinctively 21st century way. They work diligently with local farmers to ensure ingredients come from small, artisan producers who take as much pride in their products as Gabor does in each of his dishes. In their kitchen you will find homemade jams and yogurt, local honey from a protected forest region and even cheese from a shepherd who plays jazz to his goats.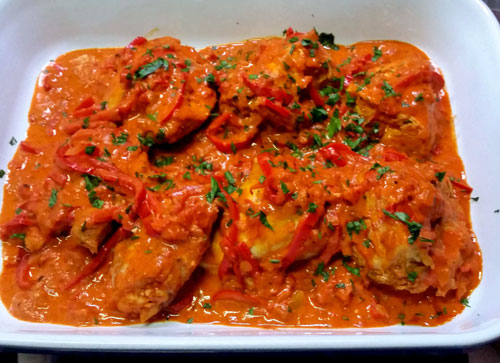 Traditional Chicken Paprikash is quite easy to make and requires, to no surprise, a healthy dose of Hungarian paprika. If you plan to try this recipe, don't reach for that old can of paprika that you use once a year to sprinkle on deviled eggs, for this dish you need to find the real deal. I brought back several varieties of paprika from Budapest (you can find 8 brands of the spice varying in color and pungency) which mostly come from Kalocsa and Szeged in the southern part of Hungary. Luckily, here in the states, you can order fantastic Hungarian Sweet Paprika from Penzeys Spices -https://www.penzeys.com (and if you place an order, you may as well throw in my other Penzey favorites - Vietnamese cinnamon, sweet curry powder, and a large bag of medium chili powder).
I researched a few recipes for Chicken Paprikash, including one from famed Hungarian chef George Lang - the Hungarian restaurateur famous for running the former Café des Artistes in New York who wrote in his Cuisine of Hungary: "Paprika is to the Hungarian cuisine as wit is to its conversation — not just a superficial garnish, but an integral element…" His recipe, as well as the hundreds of others online, requires only a basic list of ingredients – chicken, onions, tomatoes, and sour cream.
I opted for a slightly adapted version from Cook's Illustrated - always a reliable source – and decided to make it for my friend Miklos, a Hungarian actor living in LA. When he arrived he quickly commented that house was filled with the "aroma of his childhood" which made me feel I was off to a good start, as I gave the simmering paprika infused chicken pieces a final stir. The dish scored high with all of my dinner guests, and the only comment from Miklos was regarding the addition of sliced red peppers to the sauce. "In my country, red peppers would be too exotic and extravagant!" Apparently onions are the primary savory aromatic in his homeland version, but I think the red peppers add a nice touch, so I will list them as "optional". The traditional side dish would be buttered egg noodles, but rice or mashed potatoes work well too – enjoy!
HUNGARIAN CHICKEN PAPRIKASH
3 pounds bone-in, skin-on chicken pieces (I used 4 bone in chicken thighs and 2 large chicken breasts, halved crosswise)
1 teaspoon vegetable oil
1-2 large onions, halved and sliced thin (use 2 if you're not using red peppers)
2 large red bell peppers, stemmed, seeded, halved widthwise, and cut into thin strips (optional)
3 1/2 tablespoons sweet paprika (reserve the ½ tablespoon to add later)
1 tablespoon tomato paste
1/2 teaspoon dried marjoram
1 tablespoon flour
1/2 cup dry white wine
1/2 cup chicken broth
1 can (14 1/2 ounces) diced tomatoes, drained
1/3 cup sour cream
2 tablespoons chopped fresh Italian parsley leaves
INSTRUCTIONS - SERVES 4
1. Adjust oven rack to lower-middle position; heat oven to 300 degrees. Season both sides of chicken liberally with salt and pepper. Heat oil in large Dutch oven over medium-high heat until shimmering but not smoking, about 2 minutes. Add 4 chicken pieces, skin-side down, and cook without moving them until skin is crisp and well-browned, about 5 minutes. Using tongs, turn chicken pieces and brown on second side, about 5 minutes longer; transfer to large plate. Repeat with remaining chicken pieces and transfer to plate; set aside. When chicken has cooled, remove and discard skin. Discard all but 1 tablespoon fat from pan.
2. Add onion to fat in Dutch oven and cook, stirring occasionally, over medium heat until softened, about 5 minutes. Add red peppers and cook, stirring occasionally, until onions are browned and peppers are softened, about 3 minutes. Stir in 3 tablespoons paprika, tomato paste, marjoram, and flour; cook, stirring constantly, until fragrant, about 1 minute. Add wine and chicken broth, scraping pot bottom with wooden spoon to loosen browned bits; stir in tomatoes and 1 teaspoon salt. Add chicken pieces and accumulated juices, submerging them in vegetables; bring to a simmer, then cover and place pot in oven. Cook until chicken is no longer pink when cut into with paring knife, or until white meat registers 160 degrees (or dark meat registers 175 degrees), about 30 minutes. Remove pot from oven. (At this point, stew can be cooled to room temperature, transferred to an airtight container, and refrigerated for up to 3 days. Bring to simmer over medium-low heat before proceeding.)
3. Combine sour cream and remaining 1/2 tablespoon paprika in small bowl. Place chicken on individual plates. Stir a few tablespoons of hot sauce into sour cream bowl then stir the mixture back into sauce in pot. Spoon finished sauce and peppers over chicken, sprinkle with parsley, and serve immediately.
James Moore has been a cooking enthusiast since childhood and started blogging as a way to share favorite recipes with friends and family. His site, Cook Like James has grown to include restaurants, cookbooks, wines, and favorite places.