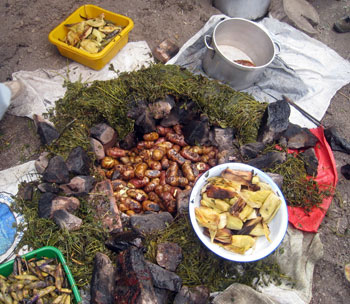 Growing up in a dual cultured household gave me the opportunity to enjoy varied foods, and to make up recipes incorporating my Mexican and Peruvian roots. If there is one thing that our house was filled with, it was warmth in the form of comfort food. With kids returning to school, fall is just around the corner and this is an easy recipe I enjoy with my family on sunless weekends. It incorporates my mother's Mexican style of cooking with lots of citrus and flavor, and my father's Peruvian technique of basically putting everything in one pot into the oven.
The idea of this recipe came to me while traveling in Peru in 2010. I experience my first "pachamanca" while visiting family in the high altitude villages 2 hours away from Lima. Pachamanca is a Quechua word; a language still spoken in Peru today. Pacha means: of the earth; and manca mean: pot. This form of cooking requires that all ingredients go into a large hole in the earth lined with hot stones. This includes Chicken, lamb, beef, guinea pigs, potatoes, etc. Once all ingredients are placed inside, it's covered with more stones, and ultimately becomes a mound of dirt. Within a couple of hours, everything inside is cooked to a tender texture and wonderful flavors.
It's virtually impossible to recreate this here in the US, unless I start digging in the backyard. And even so, you need a good crew of people to help with the process. And I reckon they all need to be Peruvian; anyone else will think you're crazy! A Pachamanca is enjoyed with everyone sitting around the food and eating with your hands. Now, the Mexican side comes in with all of the flavors in the recipe, and citrus. If you ever go to Mexican restaurant, citrus, onions, and garlic are prevalent in a lot of dishes, not to mention a wonderful depth of seasonings. So this recipe is my own medley of my roots. The wine...well, that's 100% me!
Baked Citrus Chicken
Prep time: 24 hours ahead, 1 hour cooking
Serves: 4
Whole chicken
Lime
Lemon
Orange
3 garlic cloves, chopped in quarters
1 whole onion
2 serrano chiles, deveined and halved
1 bottle of white wine
Chef Merito Seasoning*
Dutch Oven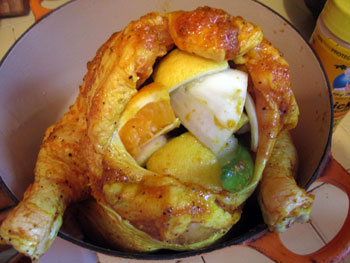 Begin by cleaning the chicken, removing the inners and patting it dry. Chop the fruit into eights, coarsely chop the onions, half the garlic cloves, half and devein the serrano chiles, then set these aside.
*Chef Merito seasoning can be found at most grocery stores, or Mexican markets. You can definitely substitute your own dry rub, but I found this seasoning to encompass a wonderful blend of flavors where I did not need any additional seasonings.
Season the entire chicken, inside and out thoroughly. Make sure to leave nothing unseasoned. You can also separate the skin from the breast and season the inside of the chicken.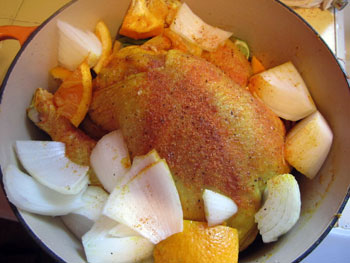 Once the chicken is seasoned, place it inside the dutch oven and begin stuffing the cavity with your chopped ingredients. Make sure you get as much of the citrus inside the chicken, even if you have to press it down and release the citrus juices.
Include the garlic, onions, and halved serrano chiles. If there are chopped ingredients left over, go ahead and sprinkle them around the outside of the chicken inside the dutch oven.
Cover the dutch oven with the lid, and store in refrigerator overnight. The next day, take out the chicken from the refrigerator about 2 hours before baking time to bring the chicken to room temperature. When it's ready to bake, pre-heat the oven to 400°F. Open the white wine bottle and fill the dutch oven with the bottle of wine. Any white wine will do, except sweet/dessert wines. Make sure the liquid is at about 3/4 of the way up the pot.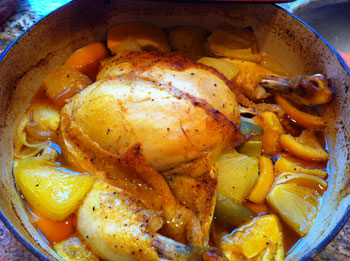 Cover with the lid, and place into the middle of the oven, and bake for 1 hour. This is when I begin to make my side dishes: Mashed potatoes and sautéed mushrooms.
When the chicken is done, remove from the oven and you will see something like this. Before I serve, I remove all of the stuffing and excess ingredients so that I'm left with the liquid, and the chicken. I serve the chicken skinless and use the liquid in the pot as gravy for my mashed potatoes.
I always pair a bottle of wine with this dish. I love that it's hearty enough to pair a Pinot Noir with it, or a complex white wine. Either way, you can't go wrong.
Enjoy!
Sautéed Mushrooms
Time: 20 minutes
Serves: 4
Ingredients:
2 bags of cleaned, sliced, baby bella mushrooms
2 bags of cleaned, sliced, white mushrooms
1/2 cup of red wine
Seasoned salt
Garlic powder
Pepper
Large saute pan or wok
I prefer to buy the bags of mushroom that are ready to use, makes life a lot easier. Any grocery store will have these in the refrigerated produce section. Place all mushrooms into a large sauté pan; a wok works well, too (I use non-stick pans). Turn on to high heat. As the mushrooms soften, season to taste and add the red wine. Any red wine will do (except dessert wines). Continue moving the mushrooms around; as the wine begins to reduce, the sugar will gently caramelize and coat the mushrooms with a lovely flavor. Cook until liquids evaporate and serve. Enjoy!
Mashed Potatoes
Time: 50 minutes
Serves: 4
Ingredients:
6-10 red potatoes, depending on size
Seasoned Salt
Garlic powder
Pepper
1/2 stick of butter
1/2 pint of heavy whipping cream
1 cup cheese: shredded gruyere or shredded Mexican blend recommended
Begin by washing your potatoes, and boiling them whole in a pot, fully covering the potatoes with water. Once cooked, drain, and peel the potatoes. Place peeled potatoes in a large bowl, preferably with a flat surface. Add seasonings, butter, and whipping cream.
Begin mashing and incorporating all ingredients together. During the mashing process, add the cheese and continue incorporating. Adjust seasonings, butter, and whipping cream to taste. I don't like to bite into garlic, so I use garlic powder, but you can definitely use finely chopped garlic cloves if you wish. When complete, it should have a soft texture, unless you use a food processor.
I enjoy mashed potatoes with a thicker consistency so that it holds gravy and stands up to the other food on the plate.
Maylynn Morales lives and works in Los Angeles county, enjoys wine road trips, international travel, foodie outings, and is a classical pianist. You can follow her on Twitter: @Oenophile79, or read her blog: TheM2Line